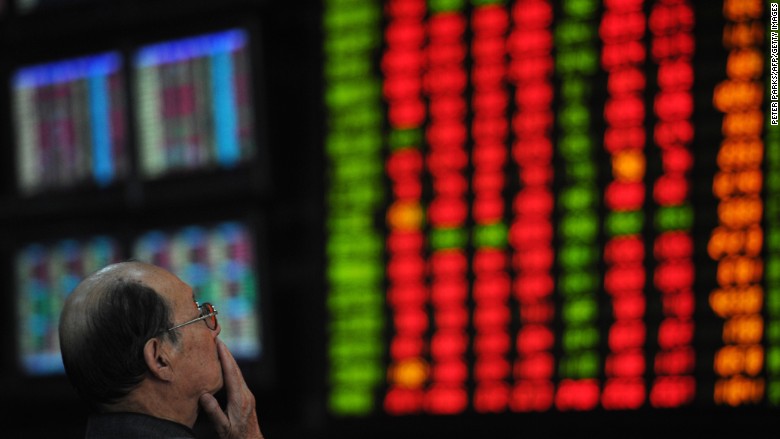 Boom! Hong Kong stocks have surged over the past two days, as investors flood the market with wads of cash.
The Hang Seng Index hit its highest point in seven years on Wednesday, the first day of trading after an extended holiday. Hong Kong stocks continue to soar on Thursday, pushing the market up 6.6% this week, and about 14% this year.
Analysts say investors are turning to Hong Kong after a dramatic 22% surge this year by the Shanghai Composite has made that market too expensive.
"Our understanding is that the rising valuation gap now makes Hong Kong-listed Chinese shares compelling bargains to [mainland] investors," wrote Nomura equity strategist Wendy Liu in a research note.
Many of China's biggest companies are dual-listed in Hong Kong and Shanghai, and savvy investors have long turned a profit by playing off the different share prices in the two markets.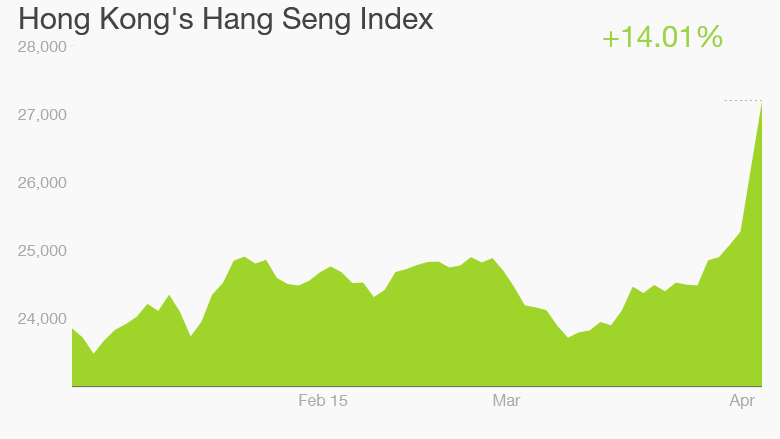 Related: The world's hottest stock market is in China
Trading activity is also flooding Hong Kong through the "stock connect" pilot program, which linked trading in the Hong Kong and Shanghai markets starting late last year.
The much-anticipated program drew lackluster interest from investors at first. But now, the China Securities Regulatory Commission has started letting mutual funds invest through the "stock connect," boosting trading volume.
The program has a daily quota for trading activity in both directions -- from mainland China to Hong Kong, and the reverse. Trading traffic from Shanghai to Hong Kong maxed out its daily limit for the very first time on Wednesday, and again today.
China's Shanghai Composite and Shenzhen Composite both fell around 1%. Despite these losses, these two markets have still posted staggering gains year to date, with Shenzhen spiking over 47%, making it the world's top-performing index.