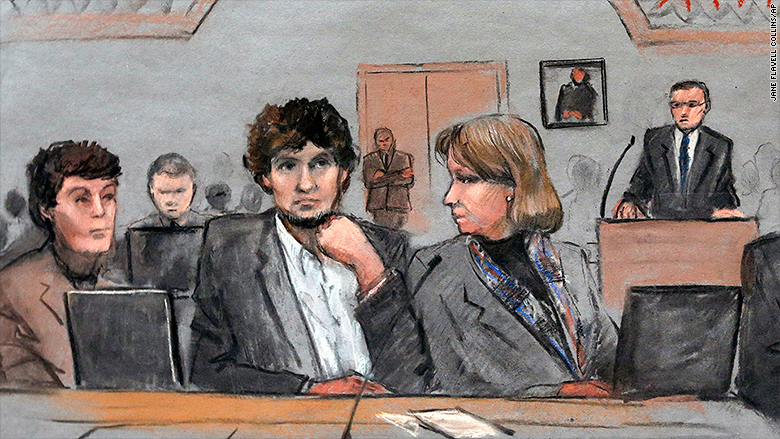 A call by the Boston Globe to spare convicted marathon bomber Dzhokhar Tsarnaev from the death penalty has sparked an outcry from some as well as impassioned agreement by others.
"Get sparky ready," wrote Sunday@1 after the Globe's editorial was published Wednesday. It was one of more than 100 comments in response to the Globe's editorial.
Tzarnaev, 21, was convicted on Wednesday of 30 counts for the 2013 bombing that killed four people, maimed others and both traumatized and infuriated Bostonians. The jury will soon begin the second phase of the trial to determine whether Tsarnaev should be executed.
Massachusetts abolished the death penalty in 1984. However, with this being a federal case the death penalty is an option.
The editorial board for the major Boston newspaper wrote that Tsarnaev should spend the rest of his life in prison rather than receive the death penalty.
"Even supporters of the death penalty should have some qualms about putting Dzhokhar Tsarnaev to death," the newspaper wrote. "Sentencing Tsarnaev to death would ensure endless appeals, substitute vengeance for justice, and risk letting him become a martyr."
Related: Tsarnaev guilty of all 30 counts in Boston bombing
"Tsarnaev was 19 at the time of the bombing; he was apparently a heavy drug user; he had no prior criminal record," the paper wrote. "By themselves, none of these would seem like a particularly good reason to spare him, but taken as a whole... they should plant seeds of doubt."
Skipper2115 wrote that he had been opposed to the death penalty "my entire life," but wants Tsarnaev executed.
"He placed the bomb on the ground next to a 8 year old boy and his family...He walked away with a smug look and bought milk!" Skipper2115 wrote.
Suprdav dismissed the argument that execution would make Tsarnaev a martyr. "Remember Timothy McVeigh? Me neither," he wrote, citing the Oklahoma City bomber who was executed for the 1995 blast that killed 168. McVeigh was killed by lethal injection in 2001.
Others, however, supported the Globe's argument that Tsarnaev should instead spend the rest of his life in prison.
"Execution is just too merciful, and too much publicity with all the appeals year after year," argued macsmart.
"He will be forgotten in prison. When was the last time anyone paid attention to Sirhan Sirhan?" wrote nj27, referring to Robert F. Kennedy's assassin.
The Globe also pointed out that the defense team for Tsarnaev argued that his brother, Tamerlan Tsarnaev, was the one who played the dominant role in the bombing.
"Tsarnaev obviously should spend the rest of his life in prison," the Globe wrote. "His defense has already made a good case that he does not meet the exceptionally high standards for a federal execution."