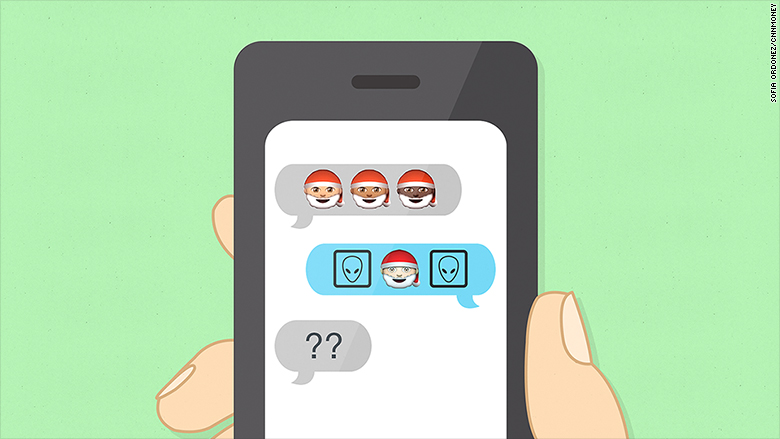 Apple has finally released its new racially diverse set of emoji, but they may be more diverse than intended. A bug turns the tiny cartoon people into aliens.
Apple (AAPL) has launched the latest version of its operating system this week, making their emoticons available in six skin tones.
Tapping and holding on an emoji person brings up the new skin-tone variations, so users can chose the one they like the most.
But for those without the iOS 8.3. version, the new emoticon faces display as pictures of aliens instead.
Related: Siri speaks with a new voice in Apple's iOS 8.3 update
Pictures of male and female faces, thumbs ups/thumbs down, as well as other emoticons such as princesses and flamenco dancers are all affected by the bug.
Apple didn't respond to CNNMoney's request for comment on the glitch.
IOS 8.3 is currently available as a free download for the iPhone, iPad and iPod Touch. Other platforms, devices and apps will be updated to display the new and improved emoji.
Until then, sit back and enjoy the alien invasion in your Twitter (TWTR) feed.