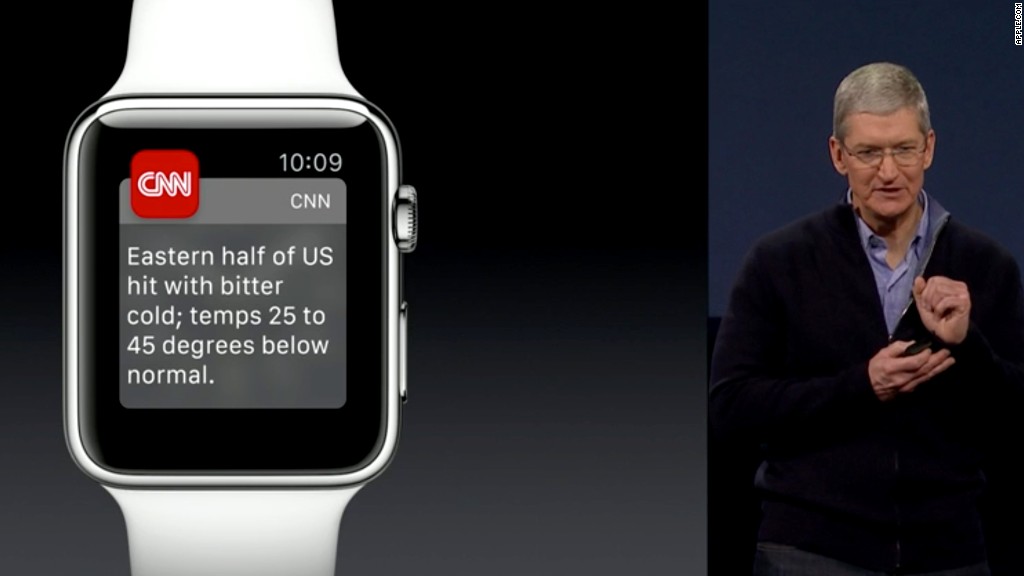 Apple expects to sell out of its new Apple Watch when pre-orders for the smartwatch begin at 12:01 a.m. Friday on the West Coast.
"We expect that strong customer demand will exceed our supply at launch," Angela Ahrendts, Apple (AAPL) senior vice president of Retail and Online Stores, said in a statement Thursday morning.
Friday also marks the first day the smartwatches will be available for customers to try on at Apple retail stores across the U.S., and eight international regions: Australia, Canada, China, France, Germany, Hong Kong, Japan, and the UK.
Shoppers at the Galeries Lafayette in Paris, Isetan in Tokyo, Selfridges in London, and select authorized resellers in Japan and China will also be able to get a glance at the watches.
The Apple Watch is the company's first new consumer product in five years -- and its first since Steve Jobs died.
Apple relies heavily on a single product -- the iPhone -- for most of its revenue. Its latest device, the iPad, has had a slump in sales given the success of smartphones with larger screens, sometimes called phablets.
The question now is whether or not consumers think the Apple Watch is as revolutionary as the iPod or iPhone.
CNNMoney's Heather Kelly had a chance to try it. Kelly found the technology "fresh and exciting" but confusing at the same time. For example, the communications tools were "oddly fragmented."
In general, for the past few months, interest in Apple's first wearable device is abundant, especially in China, where knockoff versions are already being sold. But sales receipts for the real thing will tell the final tale.
Related: Hands on with the Apple Watch
The Apple Watch will come in three models. The cheapest -- the Apple Watch Sport -- costs $349.
The stainless steel model will start at $549 (38mm version) and $599 (42mm size). Prices will then go up to $1,049 and $1,099.
The high-end version, called the Apple Watch Edition and made from 18-karat solid gold, will range in price from $10,000 to $17,000.
CNNMoney will cover the unveiling on Friday from Apple stores in London and New York.
Follow CNNTech on the Periscope app for live shots and a discussion.