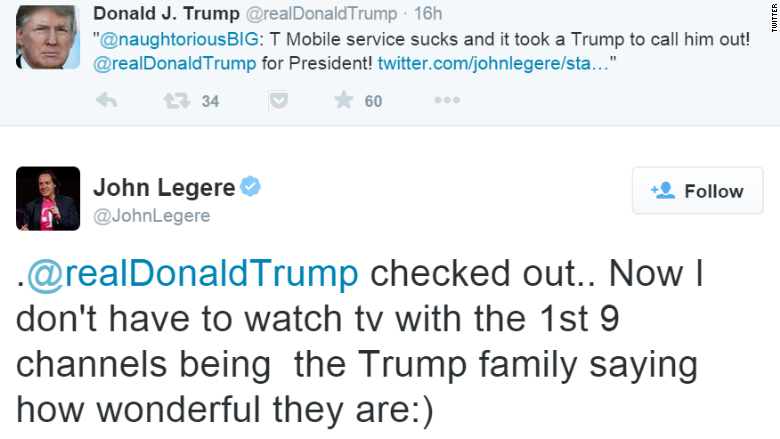 Donald Trump might have met his match.
The Donald and the CEO of T-Mobile (TMUS) became embroiled in an epic Twitter battle this weekend, in which Trump said he wanted T-Mobile out of his establishments.
"T-Mobile service is terrible! Why can't you do something to improve it for your customers. I don't want it in my buildings," Trump tweeted Saturday at John Legere, T-Mobile's chief executive and no Twitter slouch himself.
The candid and brash Legere, who frequently drops F-bombs and once crashed (and was thrown out of) an AT&T (T) party, fired back at Trump.
"I will serve all customers in the USA openly but I will obviously leave your hotel right away based on this. #checkingout," Legere tweeted.
Oh, if it only stopped there. The Donald, as he typically does, claimed victory.
"T Mobile service sucks and it took a Trump to call him out! @realDonaldTrump for President!"
But Legere didn't give up, firing off a tweetstorm that continued into Sunday morning. Legere, by far, delivered the lowest blows of the Twitter war.
"checked out.. Now I don't have to watch tv with the 1st 9 channels being the Trump family saying how wonderful they are:)"
Legere later added, "I am so happy to wake up in a hotel where every single item isn't labeled 'Trump' and all the books and TV is about him"
Trump also continued tweeting about T-Mobile into Sunday. In case you're wondering which carrier Trump uses, he said he believed Verizon was the best provider, tweeting Verizon's famous coverage map.