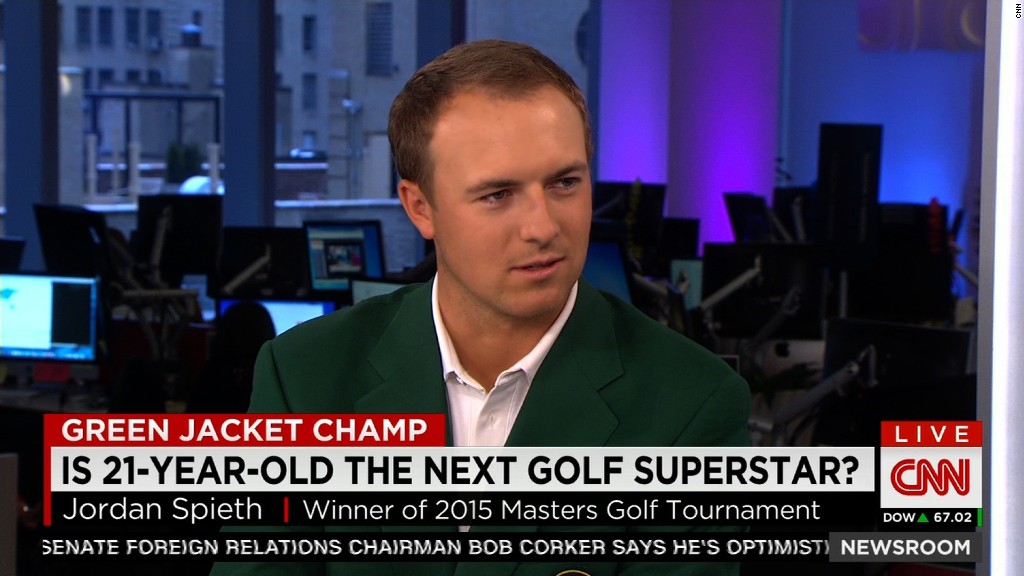 Golf has been waiting a long time for Jordan Spieth.
After winning the Masters, the clean-cut, 21-year old golf phenom could help rehabilitate the sport's image and get fans watching again. He'll also probably make a fortune in the process.
Spieth's win this weekend could earn him $5 million to $10 million a year in endorsement deals, say experts. And his All-American image should help repair golf's image with both sponsors and viewers.
Spieth's agent told CNN he's been deluged with interest from potential sponsors since Sunday night.
"It's been an exciting couple of days," said Jay Danzi. "People always considered Jordan the next great American star and this is just validation of that."
But he said any new deals will have to fit into a longer-term strategy.
It's been about five years since Tiger Woods' off-course and on-course struggles cut deeply into fan interest. And it's been 10 years since the last time Woods won the Masters.
Related: Muhammad Ali signs deal with Under Armour
That's why this weekend's tournament has raised the hopes of golf's fans and sponsors.
"Spieth is in an elite group for his age" said Bob Williams, COO of Burns Entertainment & Sports, which represents sponsors. "It's how he won that has people so excited - he won it in a fashion that only one other player can approach, and that's Tiger."
Spieth is the second-youngest winner at the Masters, and tied Woods' record for the lowest score ever.
The contrast with Woods was clear when Spieth marched off the course with one arm around his dad, the other around his mom.
"The Golf Gods were all high-fiving each other when they saw that," said Matt Delzell, managing director of The Marketing Arm. "There's only a handful of golfers who get the non-golf endorsements, and this can open a lot of doors for Jordan."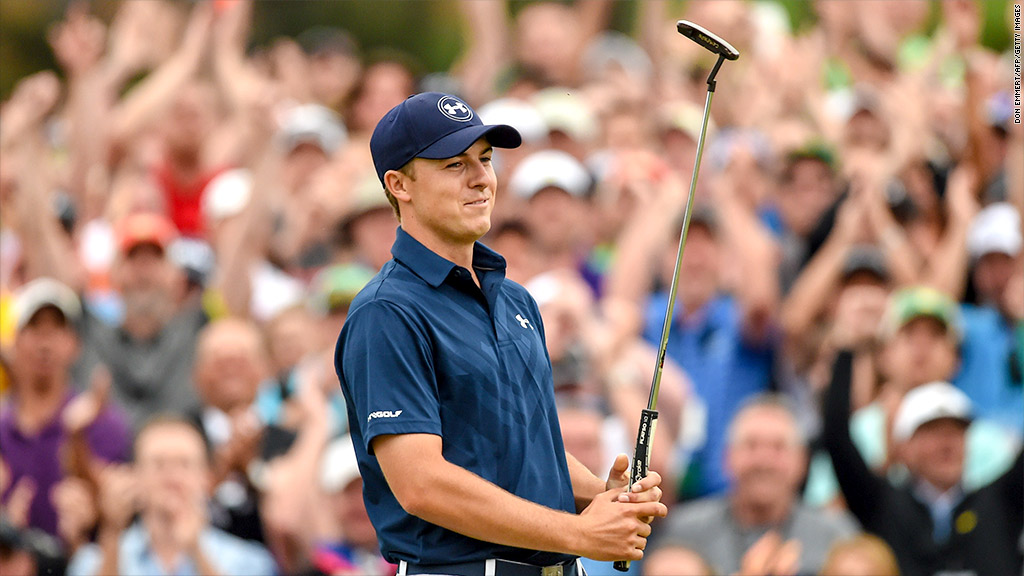 Spieth went into the tournament with four deals -- Under Armour, (UA) AT&T, (T)and Titleist, the maker of golf clubs and balls, and Rolex.
Under Armour originally signed Spieth as a 19-year old right after he turned pro and gave him a 10-year contract extension this past January.
Locking up Spieth for a decade is a huge win for Under Armour, which often loses major sports sponsorships to Nike. (NKE) Under Armour shares jumped nearly 2% Monday, although gave up much of that gain Tuesday.
Before the Masters, only about 9% Americans even knew who Spieth was, according to the Q Score Company, which measures celebrity popularity. But his win this weekend undoubtedly changed that.
Related: This is Nike's secret weapon
A rivalry between Spieth and Rory McIlroy, the top-ranked, 25-year-old Irishman who won two majors last year, could give the sport and their endorsements a lift.
"In terms of the game of golf, it's no secret it's not in a great place," said Delzell. "I think it's great for game that you have a 25-year old European stud and a 21-year old American stud. Jordan is the all American great."