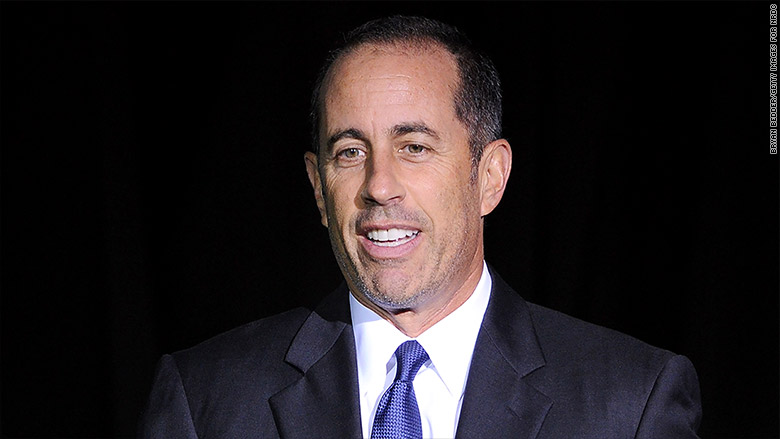 Sony's streaming video service Crackle is bringing back some of its standout shows, like Jerry Seinfeld's "Comedians in Cars Getting Coffee," and launching its first one-hour scripted drama, a series called "The Art of More."
The service previewed its lineup of familiar favorites and cult classics at a presentation for advertisers in New York on Monday.
Seinfeld was one of the famous faces on hand for it. The sixth season of his Emmy-nominated web series, which has him drive around with fellow comedians as they search for a caffeine fix, will debut on June 4.
"I have found the Internet to be the most freeing experiences I've ever had," Seinfeld said, raving about the freedom he receives from Crackle for "Coffee."
The sixth season will feature big names like future "Late Show" host Stephen Colbert, the next host of "The Daily Show" Trevor Noah, and Seinfeld's ex "Seinfeld" co-star Julia Louis-Dreyfus.
Crackle doesn't get the same sort of attention as streaming giants like Netflix and Hulu. But it wants to stand out from (or arguably stand with) fellow online video competitors.
Earlier this year the site said it would forgo the NewFronts -- the web video world's version of TV's annual upfronts where networks sell ad time to companies months in advance -- and call its event an Upfront instead.
"We want to send the message that we are a premium streaming TV network with a core focus on creating quality, long form original programming and delivering it over the top on every platform," Crackle's general manager Eric Berger told Adweek.
This focus can be seen in the announcement of "The Art of More," a 10-episode series premiering in the winter and starring Dennis Quaid and Kate Bosworth. Crackle says it "goes into the underbelly and surprisingly cutthroat world of premium auction houses."
The site also introduced a feature-length sequel to its zombie series "Dead Rising: Watchtower," scheduled for the spring of 2016.
It also announced an original film, "Joe Dirt 2: Beautiful Loser," that will premiere on the service July 16. The film is the follow up to the 2001 cult classic and has David Spade returning as the mullet-wearing Dirt; Crackle calls it "the first ever made-for-digital sequel to a major motion picture."