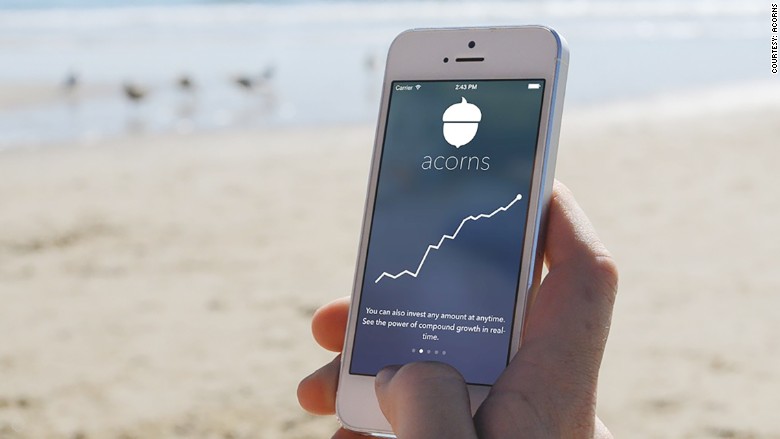 Investors -- and millennials -- are nuts about Acorns.
Acorns is a new investment app that lets people automatically invest spare change from debit and credit card purchases.
On Wednesday, the eight-month old app announced that it banked $23 million in its third round of funding. The new round comes from investors including venture capital firms Greycroft and e.ventures and brings its funding total to $32 million.
It has 650,000 members who are mostly millennials. So far, they've saved a combined $25 million since the app launched in August. Not too shabby for an audience that is known to be gun shy about investing.
"People generally associate investing with lots of dollars," said Jeff Cruttenden, co-founder and CEO of Acorns. "Once [people] find out that you can invest spare change, it's a really attractive concept."
Acorns connects to a debit or credit card to "round up" the spare change to the next dollar on all purchases. Once the roundups reach $5, it withdraws the money and invests in a personalized stock portfolio.
Nobel Prize winner Dr. Harry Markowitz helped Acorns devise its system to personalize a portfolio composed of index funds like real estate stocks and corporate bonds. Users answer basic questions about investment goals and risk preferences, which determine where their change goes.
There's also an option to manually invest roundups for those willing to put in the time.
Cruttenden, 28, came up with the idea for the business in 2011 while he was a student in Portland, Oregon.
"So many of my friends talked about investing all the time, [but] they literally had nothing," he said.
Acorns not only eliminates the guesswork in picking funds but it also doesn't charge a commission. And users can cancel their account at any time. It does, however, take a $1 per month fee on accounts under $5,000 -- and .25% per year on accounts over that amount.
Cruttenden founded the company with his father, Walter, in 2012 but it took a couple years to get the app up and running.
Acorns, which is based in Newport Beach, Calif., and counts 77 employees, has had a lot of traction among its members during its short lifespan. On average, customers are putting $100 per month into investment funds.
Acorns also lets users make larger investments.
"The majority do take that opportunity to invest outside of the 'round ups'," said Cruttenden.
With the funding, Acorns plans to roll out a desktop version and expand globally. It is currently only available in the U.S.
"Our goal is to create as many investors as possible," added Cruttenden.
Correction: An earlier version of the story misstated the percent Acorns takes on accounts over $5,000.