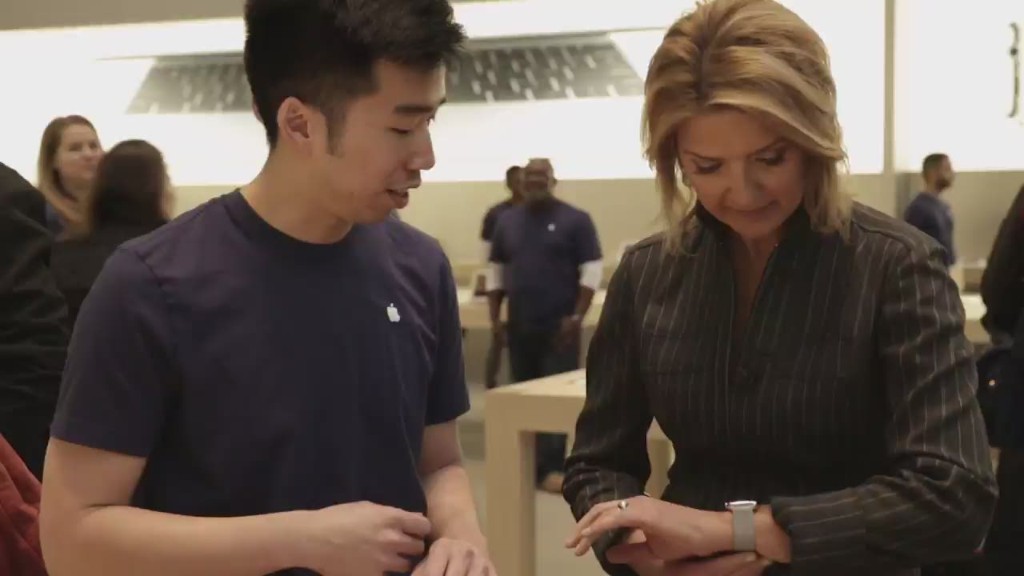 If you were hoping to buy the Apple Watch at an Apple Store on April 24, you will have to reset your watch alarm.
Apple (AAPL) has changed its plans to make its new smartwatch available for purchase in stores next Friday. You can still pre-order one online, and you can make an appointment to try one on in an Apple Store. But you'll likely have to wait until June for your Apple Watch to ship to you.
An Apple spokeswoman was unavailable for comment about why the change was made.
With shipping dates for pre-orders starting in mid-May and extending into July for some Apple Watch models, there is no doubt a supply shortage. E-receipt company Slice Intelligence estimated that just under 1 million Americans pre-ordered an Apple Watch on April 10, the first day the watch became available for online ordering.
Apple has faced supply shortages in the past, typically when it launched a completely redesigned model of an iPhone or an iPad. For the Apple Watch, which is unlike any product Apple has ever made, it's expected that the smartwatch inventory would be tight. Suppliers had to make all new components for the watch since they didn't have the necessary parts lying around from previous versions.
Apple removed the April 24 availability date from its website, and an Apple Store employee confirmed that the Watch would not be available for sale on that day.