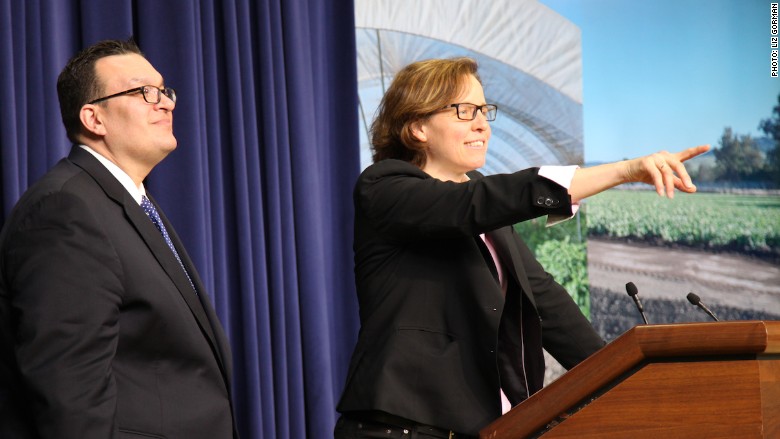 From her perch in the White House, Megan Smith is trying to merge the worlds of Silicon Valley and Washington, D.C.
Formerly a vice president at Google (GOOG), Smith joined the Obama administration last fall as the Chief Technology Officer of the United States.
On Friday, in jeans and a blazer -- a look she lauded as "sort of tech and sort of White House!" -- she held the first White House Tech Meetup, a high-profile event for Meetup, a company that counts more than 10,000 tech Meetups around the country.
The gathering was the administration's latest effort to promote the 500,000 unfilled information technology jobs.
Last month, President Obama launched TechHire, an initiative to help train under-served populations for these roles.
Related: 9 reasons to be hopeful about women in tech
At the White House Friday, there were more than 50 representatives from around the country: Meetup leaders, city representatives, community organizers. Even the mayor of South Orange, New Jersey, was there.
"All of you share a passion for getting things done," said Smith.
But tech wasn't the sole unifying passion in the discussion. Instead, it was a drive for inclusion: of women and minorities, of poor children and rural areas, of those from states like Nebraska and Alaska. It was also the belief that tech is vital to improving lives -- especially in communities that are underrepresented in the broader culture and business worlds.
Related: I told a dude how much I made. It changed my life.
"You are creating opportunity," Meetup CEO and Cofounder Scott Heiferman repeated emphatically.
He gave shoutouts to a few in the room: Jerry Fitzgerald Steele of Iowa Web Devs for building a community after devastating floods; Caroline Finch of Charleston's Women in Tech for doubling down on mentorship; Jamal and Felicia O'Garro from Harlem. The couple started Code Crew to teach themselves to code when they were laid off -- and then grew it into a 7,000-member organization in two years.
The power of technology was echoed by many, but there was a caveat.
"If we're not careful, technology reinforces existing structures of inequality," said Demond Drummer, who is working to counter that in South Chicago. "Just like the literacy tests [in the '60s], technology is a wall that people are facing today."
Related: Lesbians in tech are gaining ground
So the question remains: How do you make sure technology opens doors and isn't a barrier?
Diversity stats from firms like Google, Facebook and Apple show that their tech employees are overwhelmingly white men. Meanwhile, female-backed startups receive only 7% of venture-backed funding, and women of color often have an even more difficult time raising money for their startups.
Those abysmal statistics make it even more important to reach kids at a young age and introduce them to tech -- and all the possibilities it opens up. The sentiment was echoed repeatedly Friday: It's the responsibility of tech and community leaders to increase outreach.
"None of us were born techies," said Aliya Rahman, who recently left Code for Progress. "Some of the best techies out there may not get here unless we say, 'You are important, we need you.'"