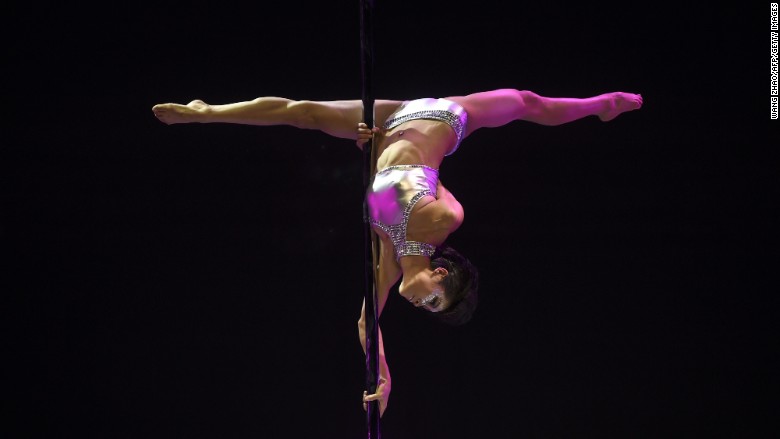 Scantily-clad dancers execute gravity-defying moves and sexy hip rolls against a backdrop of thumping music and flashing lights. It sounds like a typical nightclub -- except the sun is still out, and the drink of choice is coconut water, not cocktails.
This is the scene at Pole Divas, an exercise studio in Hong Kong that specializes in pole dancing. Already a popular form of fitness around the globe, the craze is now sweeping China, attracting legions of consumers with money to burn.
Hundreds of studios are popping up across the country to meet the demand for these high-intensity, acrobatic classes. It's so hot that China even has a national pole dance team, and regularly hosts competitions in cities like Beijing and Hong Kong.
"At this point, in the whole country -- everywhere, every province, every corner -- pole dancing is popular," said Luo Lan, who opened up one of China's first pole academies in 2005. "Everyone has been exposed to this now."
Pole dancing is part of China's giant health and fitness sector, which has turned into a $4.63 billion industry as millions of Chinese enter the middle class. Fueled by their disposable income, the sector is expected to balloon to $7.41 billion by 2019, according to research firm IBIS World.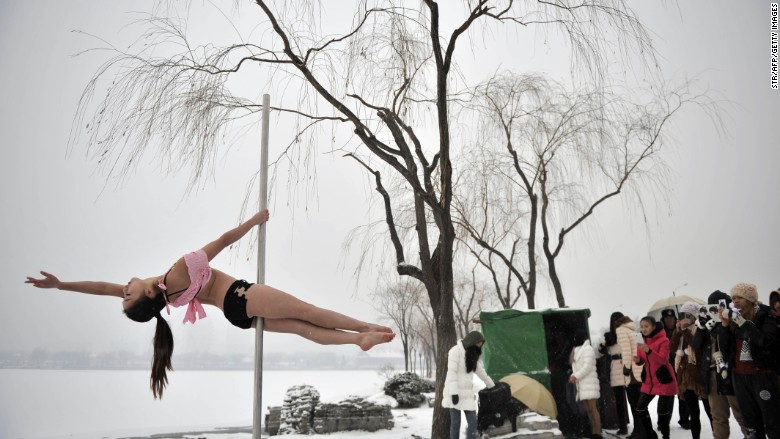 Entrepreneurs like Luo and Jady Chow, who runs Pole Divas, are clamoring to get a slice of the market.
Luo has a chain of 24 schools to train pole dancers, and says her students have gone on to open up another 600 studios across China. Chow, who used to own a spa, was introduced to pole dancing by a client. She signed up for a few sessions, and eventually took over the management of Pole Divas.
Pole dance students say they become addicted after just a handful of classes, which mix core conditioning and pole technique. Moves include sweeping around midair or swooping upside down with one leg swung over the pole.
"I love pole dancing," said Hebe Cheung, 26, an accountant and Pole Divas client. "It's sexy and sporty, and I think it's fun!"
Related: Smart clothes: The next big fitness craze?
It's easy to see why customers keep coming back for more -- pole dancing is an entertaining way to get some serious exercise in. "Women can see the transformation -- when you look good, you feel good," said Chow.
Hanging out at the studio is also a great way to make friends, said Cheung, and classmates cheer each other on while experimenting with difficult moves. One student even said she typically attends class with her teenage daughter.
Pole dancing, however, is an extremely expensive hobby. A three-month membership at Luo's school in Beijing costs 16,800 yuan ($2,700).
But "with the economic boom in China, women have more money to look after themselves," said Anna Przeplasko, the founder of the International Pole Dance Fitness Association. "They want to feel more feminine."