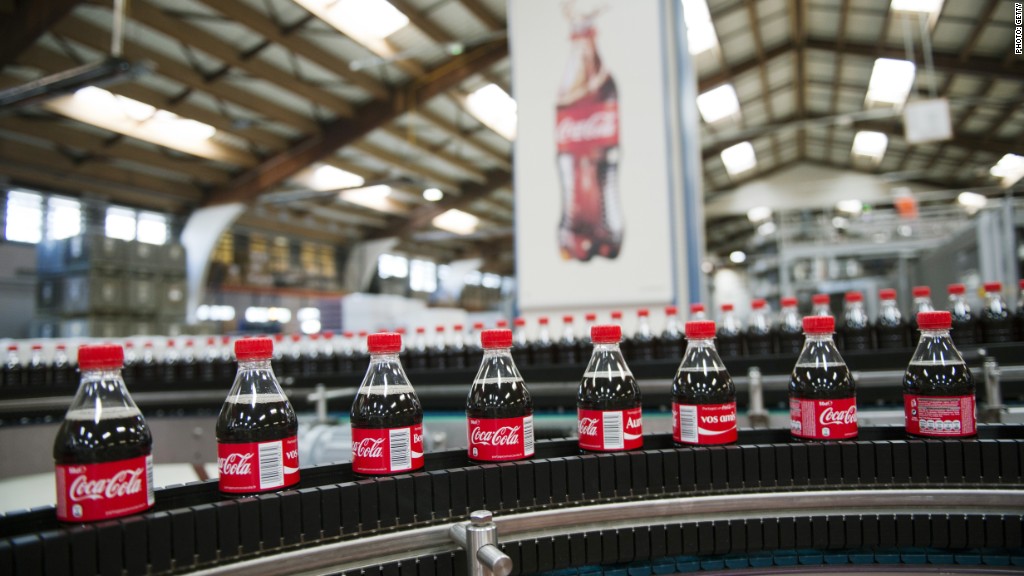 Coke's sales perked up in the first quarter and profits beat forecasts. But sales of one of its most iconic products -- Diet Coke -- are plunging.
Coke said in its earnings release Wednesday that Diet Coke volume fell 6% globally last quarter.
Diet beverages have come under more scrutiny in the past few years. There have been many reports about how zero- and low-calorie beverages with artificial sweeteners aren't really that healthy.
So that could be one problem for Coke (KO). But it's also facing tough competition, particularly from Pepsi (PEP).
According to the latest figures from the trade publication Beverage Digest, Pepsi's flagship full calorie brand topped Diet Coke in market share for the first time since 2010.
Related: Pepsi brews up growth in its tea business
Pepsi is once again the second most popular brand, trailing regular Coke. Pepsi will report its latest results on Thursday. So will Dr Pepper Snapple (DPS).
But Coke may also be responsible for the big sales drop in Diet Coke. The company said that its Coke Zero brand, another diet beverage, reported volume growth of 5% in the first quarter. Sprite and Fanta sales were up around the world, too.
Coke Zero and Diet Coke are very similar but they are marketed very differently. The Coke Zero ads tend to be more goofy and irreverent.
Nonetheless, Wall Street was pleased with the overall results for Coke. The stock was up 1% in early trading.
And it certainly needs the caffeine boost.
Even though Coke is one of Warren Buffett's so-called Big Four stocks -- IBM (IBM), Wells Fargo (WFC) and AmEx (AXP) are the others -- the stock has lagged Pepsi and Dr Pepper Snapple for the past few years.
Coke chairman and CEO Muhtar Kent has been criticized by many shareholders for failing to turn the company around.
Kent offered some signs of hope on Wednesday.
"We are pleased with our solid progress on the implementation and execution of our global strategic initiatives. Though we are still in the early stages, we see some initial positive indicators that we have the right strategies in place to accelerate growth," he said in a statement, reiterating that 2015 is a "transition year" for the company..
But Kent also indicated that the strong dollar is hurting its sales. That's a common refrain from the heads of giant multinational firms this year.
He's come under fire for an executive compensation package that was deemed excessive given the company's weak performance -- even by Warren Buffett. Coke has since made changes to the compensation plan to cut back on the amount of stock options.
Coke's struggles mirror that of McDonald's (MCD) in many respects. Both companies have struggled to adapt to changing consumer tastes. Their stocks have been dogs on Wall Street and their sales have been sluggish.
McDonald's reported results Wednesday morning that suggest a turnaround may be in sight and shares of the company rose more than 4%.