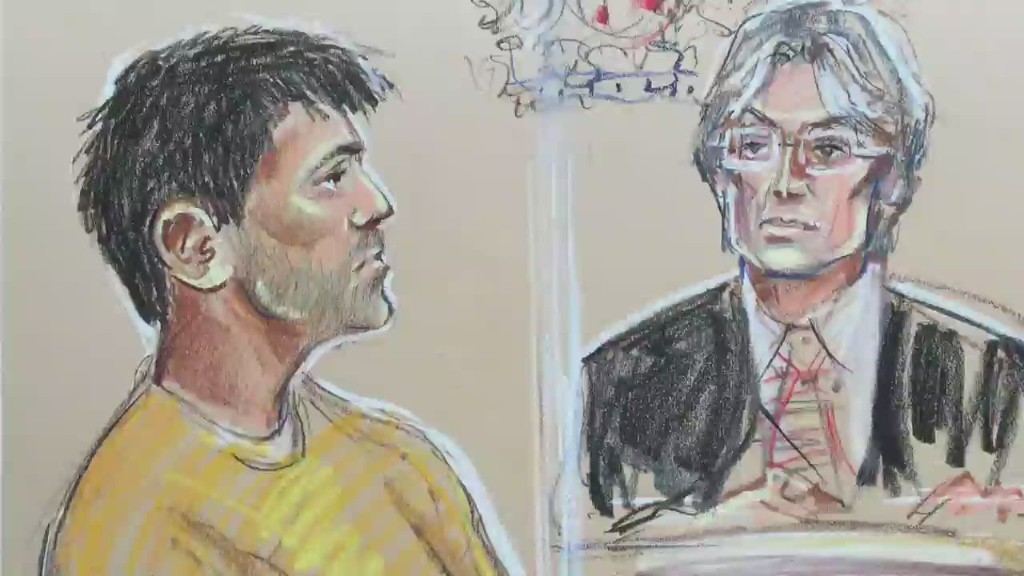 The U.K. man accused of illegal trading linked to the 2010 "Flash Crash" will fight extradition to the United States.
Navinder Singh Sarao, 36, appeared Wednesday before a magistrate in London, one day after being arrested on multiple counts of fraud.
Sarao, wearing a bright yellow sweatshirt and white tracksuit pants, spoke only once in court, to confirm his name. His attorney indicated that Sarao did not consent to the extradition request.
The U.S. Justice Department and Commodities Futures Trading Commission are seeking to have Sarao extradited to the United States to face charges he manipulated the market for certain stock market futures.
Prosecutors allege that Sarao's activities triggered a sudden crash in the stock market on May 6, 2010, when the Dow Jones industrial average briefly plunged nearly 1,000 points.
The episode, widely known as the "Flash Crash," raised concerns about market structure and the dangers of computer-driven high-frequency trading.
Related: Could the "Flash Crash" happen again?
The judge set Sarao's bail at £5 million ($7.5 million) and ordered his passport withheld. The amount is unusually large and reflects the severity of the allegations, the judge said. The court will review Sarao's challenges to extradition on May 26.
Sarao, who did not enter a plea, sat with his head down and arms crossed during the proceeding. He spoke in a soft voice when asked to identify himself.
The judge noted that Sarao had not had any previous problems with the authorities.
Sarao's demeanor in court was in stark contrast to the bravado prosecutors describe in a 35-page criminal complaint unsealed Tuesday.
The complaint quotes an email from Sarao in which he claims to have told the Chicago Mercantile Exchange, where the alleged illegal trading took place, "to kiss my ass."
Sarao's arrest at his parents house in the Hounslow borough of London came as a shock to one of his neighbors, H.S. Johal.
Related: Wall Street responds to Michael Lewis' "Flash Boys"
Johal told CNN that Sarao's family had lived in the area for 25 years and were well liked.
"They're very nice people. His brother's very nice. The mum and dad are very nice people. We're shocked," said Johal.
Referring to Navinder Sarao specifically, Johal said "He was such a nice kid, well educated."
The Justice Department said it doesn't comment on extradition matters. An attorney for Sarao, Joel Smith of Furnival Chambers Barristers, declined to comment.
-- CNN's James Frater at Westminster Magistrates Court in London and Alex Felton in Hounslow contributed to this report.