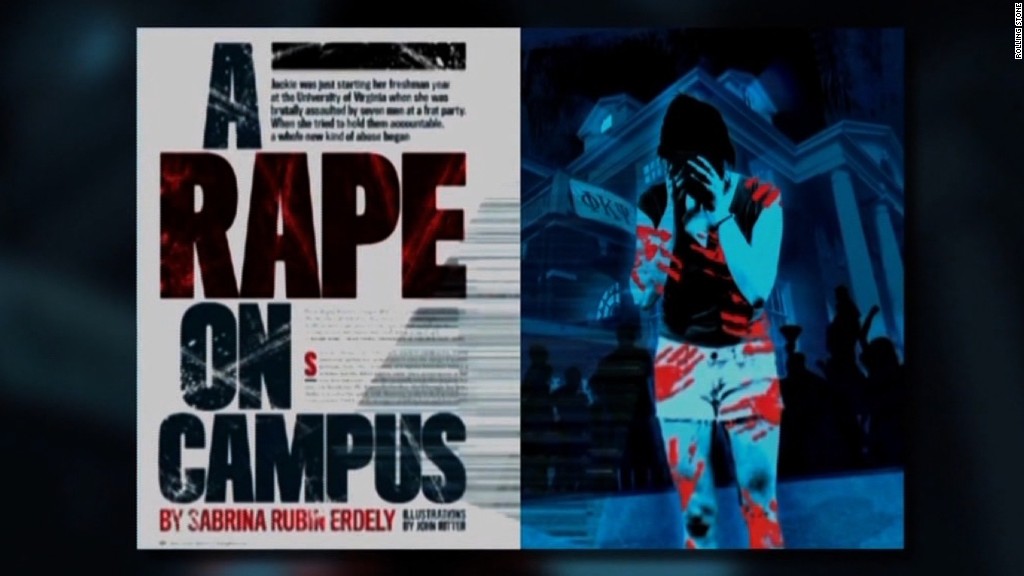 A University of Virginia administrator has retained a prominent defamation attorney and written a letter to Rolling Stone lambasting the way she was depicted in the magazine's retracted "Rape on Campus" story.
"Using me as the personification of a heartless administration, the Rolling Stone article attacked my life's work," UVA associate dean of students Nicole Eramo wrote in a four-page open letter to Rolling Stone publisher Jann Wenner.
The letter, which was first reported by the Washington Post, was provided to CNNMoney by Eramo's attorney. It did not mention any legal action that Eramo may take against the magazine.
But Eramo has hired counsel through Clare Locke LLP, an Alexandria, Virginia, law firm that specializes in defamation cases.
Libby Locke, Eramo's attorney, said her client "is not commenting on future litigation plans." Locke also represents former Penn State University president Graham Spanier in a defamation case against former FBI director Louis Freeh over statements made in the internal investigation of the Jerry Sandusky sex abuse scandal.
In the letter, Eramo asserted that the magazine's negligent reporting had brought enormous personal and professional suffering to both her and the wider UVA community.
Eramo figured prominently in "A Rape on Campus," the story by Rolling Stone contributing editor Sabrina Rubin Erdely that caused a national firestorm immediately after it was published last November.
Related: UVA four months later: 'Rolling Stone didn't do its job'
In the story, a UVA student identified as Jackie described a gang rape that allegedly took place at the Phi Kappa Psi fraternity house in 2012.
The story, based almost entirely on Jackie's account, portrayed the university's administration -- including Eramo -- as insensitive and unhelpful to a young woman who had been the victim of a brutal sexual assault.
The story was also accompanied by a photo of Eramo, which she described in her letter as "cartoonish" and "doctored" to make her look like she was flashing a thumbs-up to a crying victim.
Some of Jackie's claims quickly unraveled, and the magazine apologized and asked Columbia Journalism School to investigate its editorial processes.
Columbia's report, released earlier this month, found major "failures" in Rolling Stone's reporting and editing.
Separately, an investigation by Charlottesville, Virginia police found no evidence that a rape occurred at the fraternity.
Phi Kappa Psi has said that it is exploring legal action against Rolling Stone.
After the original story was published in November, Eramo said angry protestors showed up at her office demanding that she be fired.
She recalled receiving emails "expressing hope that I be killed or raped, and commenting that they hoped that I had a daughter so that she could be raped."
Related: Author of botched Rolling Stone rape story apologizes
Erdely apologized after the Columbia probe, Rolling Stone removed the story from its web site, and the magazine reprinted Columbia's report.
But the magazine also indicated that no one would be fired or otherwise disciplined for the shortcomings. In her letter on Wednesday, Eramo called out Rolling Stone for its response. She said the magazine's "half-hearted generalized apology," which she noted did not address anyone by name, "seems insincere."
"Rolling Stone's recent actions are too little, too late," she said.
"Rolling Stone has refused to hold anyone accountable, and the so-called apology came only after the Columbia Journalism Review issued its report criticizing the magazine's reporting, which suggests that the magazine is more interested in currying favor with its friends in the media than truly making amends with those of us who have been hurt," she continued. "These steps are not good enough. The University of Virginia -- and those of us who work for the University supporting victims of sexual assault -- deserve better."
Rolling Stone responded to Eramo's letter on Wednesday afternoon.
"We sincerely regret any pain we caused Dean Nicole Eramo and others affected by this story," the magazine said in a statement.