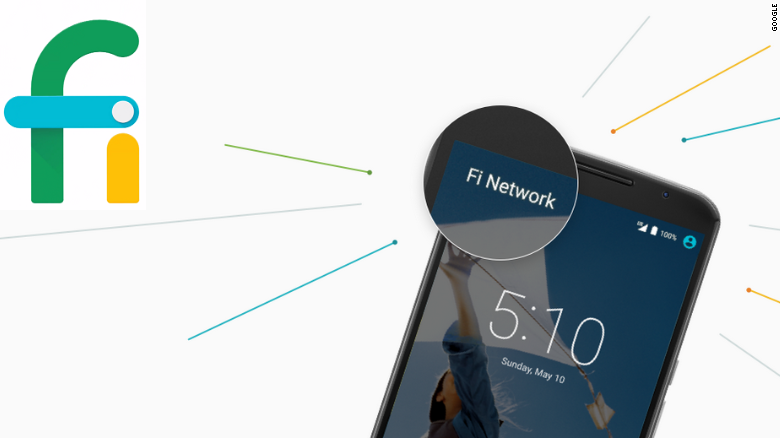 Google on Wednesday announced Project Fi, a new cell phone service that will compete with AT&T, Verizon, T-Mobile and Sprint.
Project Fi is like any other wireless service, except for a few notable differences.
1. It works across multiple networks. Google partnered with Sprint (S) and T-Mobile (TMUS) and will tap into more than a million free Wi-Fi hotspots across the world. Project Fi will piggyback on those networks, seamlessly switching between them to choose the network with the fastest and most reliable service in your area.
No matter what network you're on -- or if you're connecting via Wi-Fi, Google will let you make calls, stream media, browse the Web and use apps. You can also make and place calls using your phone number on any of your devices, including a PC or a tablet.
And when you're on an open, public Wi-Fi network, Google will automatically encrypt your data to protect it from hackers.
2. You only pay for the data that you use. The service starts at $20, which includes unlimited talk, texts, inexpensive international calls and international roaming at no additional cost. After that, Project Fi costs $10 extra for every gigabyte of data you use.
If you use less data, you'll get a credit back on your bill. If you use more, you'll be charged only for the data you use.
So if you have a 3 GB plan and only use 2.2 GB, you'll get an $8 credit on your bill.
3. You need a Nexus 6. The only phone on the market right now that supports Project Fi's "network of networks" is Motorola's Nexus 6.
If you don't have a Nexus 6, you'll have to buy one for $649 up front or $27 a month over two years.
4. You'll have to wait a while. Google (GOOGL) is only allowing a small number of people to join its "Early Access Program" for Project Fi each week. If you have service in your area, you can request an invitation.
When Google's products chief, Sundar Pichai, first announced the service at Mobile World Congress in Barcelona in February, he said the scale of Google's wireless service will be small -- it won't be building out its own nationwide infrastructure. And similar to Google Fiber's small rollout, Pichai said the point of Project Fi won't be to unseat the established Big Four wireless giants. Rather, the point is to showcase wireless innovations and pressure the carriers to do the same.
Related: Google+ is about to be broken up
Google is hardly the first to try selling its own branded wireless service. Best Buy (BBY), Staples (SPLS) and Wal-Mart (WMT)all offer wireless plans to their customers.
If successful, Google's plan could pave the way for Apple (AAPL) to sell its own wireless service with every iPhone. And Facebook (FB) and other companies with a vested interest in connecting people to the Internet could get involved too.
But there's a lot of risk associated with being a wireless carrier too. When service inevitably goes down or connections fail, customers will blame Google -- not Sprint or T-Mobile -- for the disruptions.