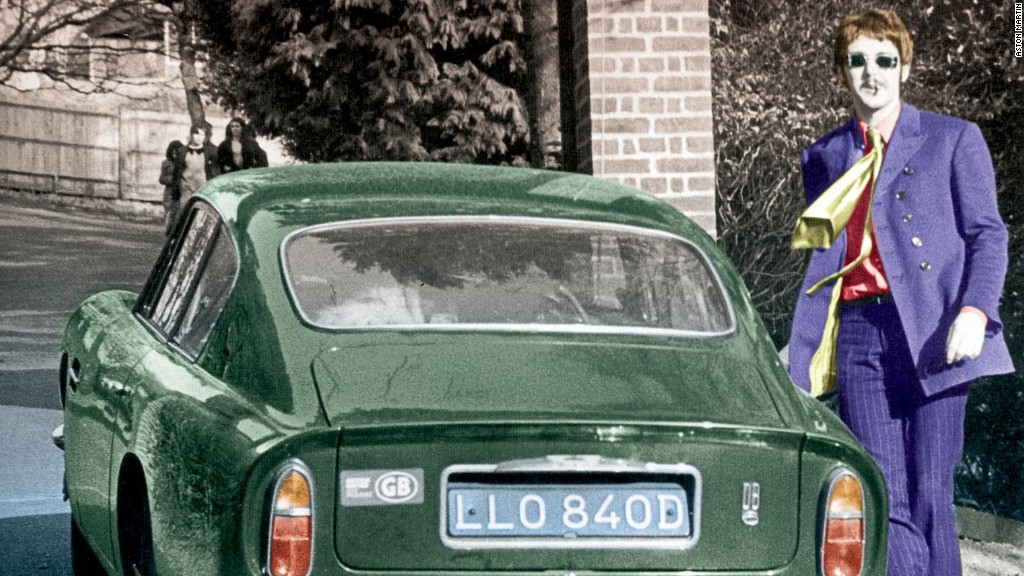 One day in 1968, Paul McCartney was driving his Aston Martin DB6 to visit John Lennon's son, Julian, when a song came into his head. There was a reel-to-reel tape recorder installed in the car's dashboard for moments just like this, so he turned it on and started recording.
This would have been the very first recording of the song that became "Hey, Jude." That Aston Martin is still around, and the carmaker let me take it out for a drive.
Indeed, this nearly 50-year-old "Goodwood Green" sedan was in very fine shape. The smooth wooden steering wheel felt good in my hands. The shifter slipped easily from gear. Fortunately, I'd been in England a few days by that time and had finally gotten used to driving on the "wrong" side of the road and shifting gears left-handed.
The car had a 282 horsepower 4.0-liter 6-cylinder engine and a five-speed transmission. Aston Martin Works, the automaker's own restoration shop, modified the engine so that it's now 4.2-liters and runs on unleaded fuel. It rumbled strongly as I steered into the English countryside. It coughed a bit as I went to higher gears too early, but I soon got into the rhythm.
Electric power steering has been added to make parking easier. The steering still felt fairly sharp but relaxed, just the way it should in an Aston Martin.
Photos - 9 up-and-coming collectible cars
One thing that was missing from the car was that historic tape recorder, which was removed and stored away "for its own protection," said the folks at Aston Martin. In its place is the glove compartment the car originally would have had when McCartney bought it for about £4,000. That's $7,000 at modern exchange rates, a fairly large sum for a car in 1966.
Aston Martin Works bought the car in a private transaction in 2001 through the auction house Bonhams & Brooks.
Today, a DB6 like that one would be worth something over $300,000, according to the Hagerty Price Guide for collectible cars. Given McCartney's ownership, and the car's connection to one of the world's best-known pop songs, this Aston Martin's value could be much higher. Or not. Another McCartney-owned Aston Martin, a DB5, was sold at auction in 2012 for considerably less than its book value.
You just never know, and with this particular DB6, we probably never will. Aston Martin has no intention of ever selling it.