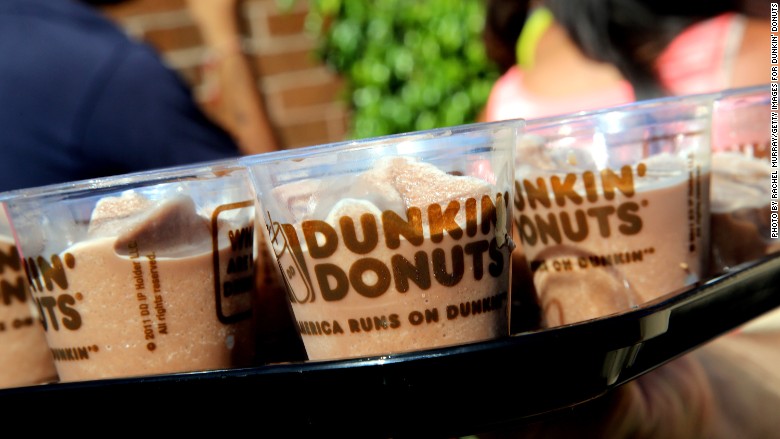 America is once again running on Dunkin'.
Iced espresso, hot espresso, iced coffee, croissant donuts, Angus steak and egg breakfast sandwiches. If you're buying any of these, you definitely aren't alone.
After a sluggish 2014, Dunkin' sales and profits are surging. New menu items like the croissant donuts and returning favorites like heart-shaped donuts for Valentine's Day are bringing customers back.
That's why shares of Dunkin' Brands (DNKN), the owner of Dunkin' Donuts as well as Baskin-Robbins, are running 7% higher on Thursday. They've raced 20% so far this year, bouncing back strongly after falling behind last year.
Related: Earnings report card: America's economy is going strong
Overcoming wild winter: Not only did consumers spend more at Dunkin' Donuts during the first quarter, but they also visited more frequently.
That's despite severe "white-out" conditions in Dunkin's home Northeast market. As soon as they could dig out, New Englanders appeared to head to Dunkin' for a coffee fix.
"Dunkin' defied Ol' Man Winter," Janney Capital Markets analyst Mark Kalinowski wrote in a note to clients. Kalinowski said he had been "concerned" that record snow falls in New England would "hamper" sales.
In addition to adding flavor to the menu, Dunkin' has moved to speed up service, bolster marketing, retool supply chains and double down on popular items like espresso and steak sandwiches.
"We're winning the war of development," Dunkin' Brands CEO Nigel Travis said on a call with analysts.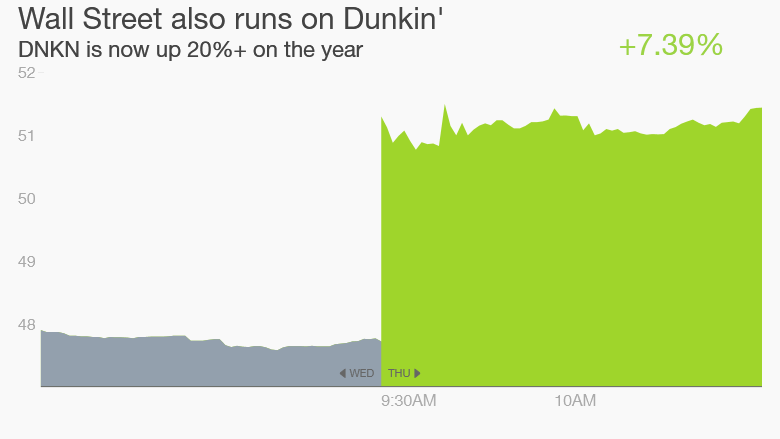 The company now forecasts a bump in sales for the rest of the year. All the good news is partially fueled by the deal struck with J.M. Smucker (SJM) and Keurig (GMCR) to sell Dunkin' K-Cups at retail outlets.
Even ice cream is paying off for the donut maker. U.S. sales at Baskin-Robbins, the dessert chain owned by Dunkin' Brands, also soared 8% during the first quarter. The brand benefited from stronger sales of cups, cones, desserts, beverages and sundaes. Cake sales were also boosted by online cake ordering.