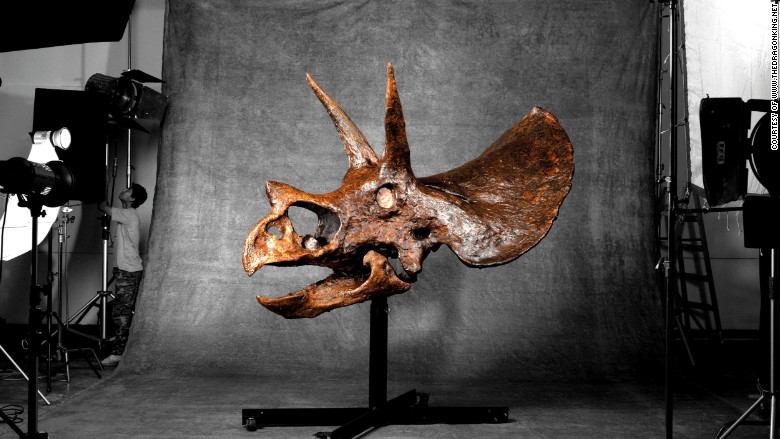 As a young man growing up in Montana, Ray Novakovich made a hobby of hunting for fossils and unusual rocks on his family's plot of land.
But it wasn't until 1992, when he was about 70 years old, that Novakovich spotted the rock formation that would be his greatest discovery.
"It dawned on him what was sticking up out of the ground -- it was the tip of two [dinosaur] horns," said Cliff Linster, an amateur dinosaur hunter who excavated the fossil.
Due to a lack of resources, the fossil wasn't unearthed and cleaned until 2003, after Novakovich had sold the property. The new owner posted an Internet ad for the dinosaur, and Linster bought the rights.
That fossil -- a 65 million-year-old male Triceratops skull found in Glendive, Montana -- has since changed hands a number of times and is now on sale in Hong Kong with a minimum asking bid of $1.8 million.
Digging for dinosaur fragments in Montana is a big business -- local buffs routinely search for bones and dinosaur expeditions are a top tourist attraction. Rare fossils are prized by private collectors and museums, and top specimens can yield huge sums. "Sue," the largest T-Rex fossil ever found, sold for a record $8.5 million in 1997, and is on display at the Field Museum in Chicago.
The Triceratops skull, dubbed "Dragon King," is unique because of its size, Linster said. The fossilized skull is 95% complete bone, over 9 feet long, 5.2 feet high and 4.6 feet wide.
But is it really worth nearly $2 million? "Well, there's no blue book on dinosaurs -- it's not like buying a car," he said. Buyers should look at "the condition of it, how much is original bone, how much of it was prepared, if it had to be restored, the type of dinosaur and how rare it is -- all those factors enter into it."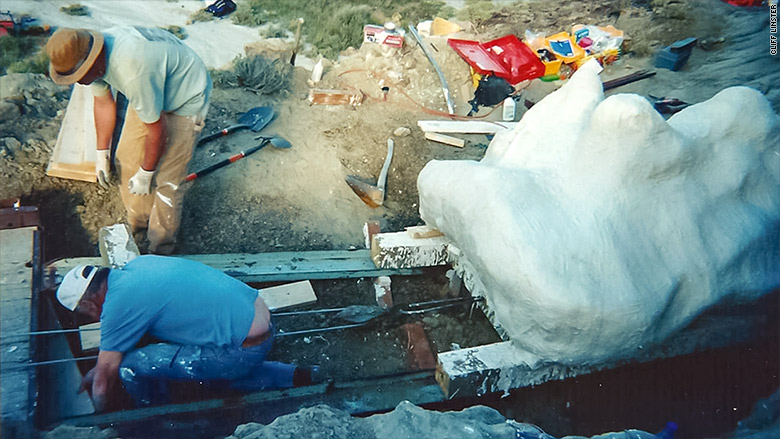 Fossils are usually embedded in rock, though parts can be exposed as a result of weathering. With "Dragon King," the sand grains around the skull had fused together to form a hard coating over the bone. It took Linster, his wife and two of his kids -- dinosaur hunting is a family pastime -- a week just to dig it out of the ground.
When it finally came out, the entire thing weighed three tons -- plenty of rock still had to be chiseled off. It typically takes around 20,000 labor hours to clean a large fossil, a process that can include using small tools, like dental picks, and restoration work. While the skull was fairly complete, the horns and frill around the back still needed work.
"That was the part that was exposed for who knows how many thousands of years ... so some of that was gone," Linster said.
Final cleaning of the skull was done by Barry James, another dinosaur expert. Linster sold the fossil for $35,000, and it was shipped to Asia a few years later, he recalled.
The private sale of the 1,300-pound dinosaur skull is being managed by Brian Lerner and Anna Leong of Evolved Ltd.; the pair started accepting bids earlier this week. Lerner and Leong moved their business from New York to Asia in 1993, swinging between Hong Kong and Singapore.
Related: Discount private island sells for $38 million
But Hong Kong "is where we like to be -- it's where we think the future is," Lerner said. "All the auction houses are booming here; Art Basel is here -- the whole scene has gotten quite sizable."
Dinosaur fossils can be a lucrative investment for private collectors -- the T-Rex fossil that sold in 1997 is now worth $12.5 million, Lerner said, representing a 50% increase on the purchase price.
Novakovich has passed away, and calls to relatives weren't returned. Barry James couldn't be reached for comment.