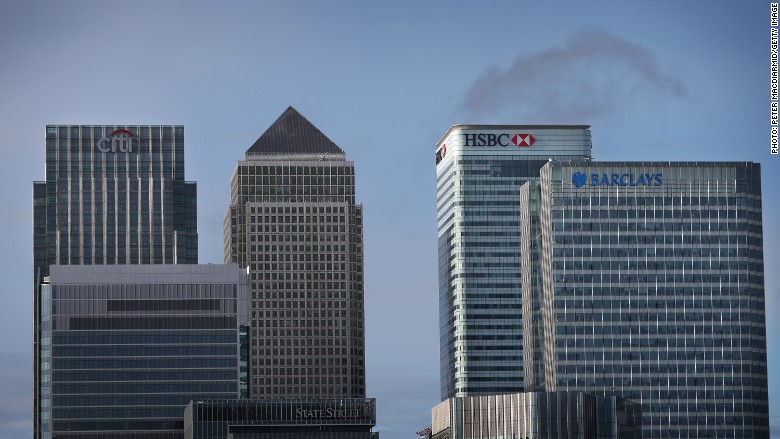 One of the world's largest banks, HSBC, is considering moving its headquarters out of the U.K. because of tough regulations and uncertainty over the country's future in Europe.
The bank's chairman Dougles Flint blamed "the regulatory and structural reforms which have been put in place post crisis" for the bank's decision to launch a review it has been talking about for several years.
"The question is a complex one and it is too soon to say how long this will take or what the conclusion will be; but the work is underway," Flint said.
With total assets of $2.63 trillion and pre-tax profits of $18.7 billion, HSBC (HSBC) is Europe's largest bank and the only truly global British bank.
The HSBC current headquarters in London's Canary Wharf is its biggest office worldwide, with 8,500 employees.
The announcement comes at a highly sensitive time for British business. The economy is growing strongly but executives are concerned that an election on May 7 may result in a more hostile environment for companies, or put the U.K.'s membership of the European Union at risk.
The opposition Labour Party has announced plans to take banking regulation even further. The Conservatives of Prime Minister David Cameron have promised to hold a referendum on Britain's EU membership if they win the election.
"One economic uncertainty stands out, that of continuing UK membership of the EU," said Flint. HSBC has previously warned that the consequences of quitting the EU could be painful.
Related: U.K. election: A scary prospect for business
An obvious choice for the new headquarters would be Hong Kong.
HSBC has a strong position in Hong Kong, where it was founded at the time when it was a British colony. The bank relocated its headquarters to the U.K. in 1992, after it bought Midland Bank.
The importance of HSBC's Chinese business has been rising. There are now 30,000 employees in Hong Kong and further 21,000 in mainland China.
Add to that lower corporate tax in Hong Kong and less strict banking regulations and Hong Kong sounds even more promising.
The Hong Kong Monetary Authority said in a statement it would take a "positive attitude" if HSBC decided to move back to Hong Kong.
Although the group operates in over 70 countries, 80% of its profit comes from Asia, where it made $12 billion in 2014. That compared with a loss of $257 million in Europe.
Related: HSBC helped conceal $100 billion in Swiss accounts
HSBC has been squeezed by a wave of new regulation following the 2008 financial crisis. There have been new rules on capital requirements, a clampdown on bankers' bonuses and a requirement for big bank to separate their retail units from the rest of their operations.
"The recent past has been very difficult for HSBC," Flint said.
And it could get tougher still, and not just because of the potential European headache. All major parties are looking to tax the big banks more heavily to help erase the U.K.'s persistent budget deficit.
Being headquartered in the U.K. means HSBC has to pay a levy introduced after the global financial meltdown to offset the cost of the crisis for taxpayers. But the levy has increased since its introduction, and become a permanent feature of the tax system.
The levy is based on the size of a bank's balance sheet. This means HSBC pays the most: $1.1 billion in 2014 alone. The bank says 58% of the charge does not relate to its U.K. banking activities. In total, the bank paid $1.7 billion in taxes in U.K. last year.
Britain's financial services industry, which accounts for about 10% of GDP, is worried about the future.
"Further increases to taxes like the bank levy and additional layers of regulation are creating significant extra costs for banking businesses in the UK, which is making many banks move work and jobs to other parts of the world and deterring international banks from investing in the UK," said Anthony Browne, CEO of banking association BBA.
The bank is celebrating its 150th anniversary this year. It employs 266,000 people worldwide, including 48,000 in Britain. Its shares shot up by about 3% in London after the announcement.