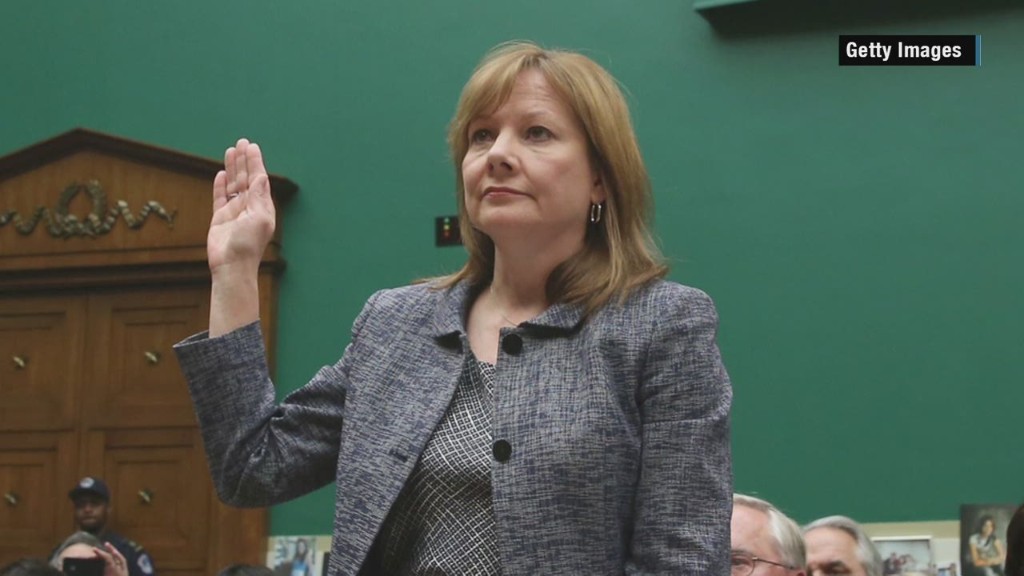 GM is turning gender pay inequality on its head.
Mary Barra, first female CEO of GM, got paid $16.2 million for 2014, which is 78% more than her male predecessor Dan Akerson.
Akerson's pay had been limited by the fact that GM (GM) executive pay was subject to government oversight during his tenure due to the 2009 government bailout of the automaker.
The Treasury Department sold its remaining shares of GM stock on Dec. 9, 2013, which removed the limits on pay at that time. Akerson was paid $9.1 million for 2013, though he received an additional $2.1 million for his limited role with the company in 2014.
Barra's pay trails that of Mark Fields, who also was named CEO during 2014 at rival Ford Motor Co. (F) Fields received $18.6 million. He took the top job at Ford on May 1, succeeding Alan Mulally, who Ford paid $22 million during 2014.
Related: These CEO's work for 'free'
Barra took over the top job at GM on Jan. 15, and had a tumultuous first year in the job as the automaker dealt with a recall crisis that cost the company more than $4 billion. Barra repeatedly apologized for the failure of GM executives to order a recall for a decade of cars with a flawed ignition switch. That flaw has now been tied to at least 87 deaths.
Barra set up a $500 million compensation fund for recall victims and their families and called for an independent investigation into what she termed a "fundamental failure" in not recalling the flawed cars sooner. That probe led to the dismissal of 15 executives.