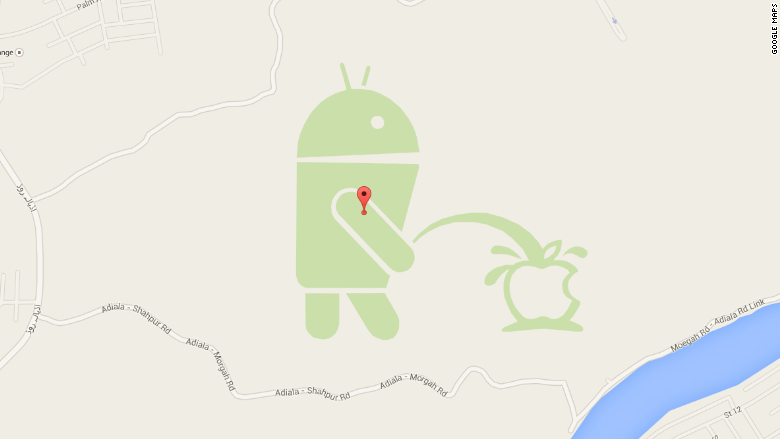 In the outskirts of Rawalpindi, a Pakistani city less than 10 miles southwest of Islamabad, is what appears to be a park in the shape of an Android robot peeing on an Apple logo.
At least, that's what shows up if you look up Rawalpindi in Google Maps.
The park is not actually there -- it's an illustration.
It's not clear how long the image has been there. When you look at "satellite view," you'll see a few residential roads, a bit of green space and some hills -- nothing that looks remotely like an Android peeing on an apple.
It was discovered Friday by Ahmad Babar, a former Samsung employee living in Lahore, Pakistan.
On Facebook (FB), Babar posted that he came across the Android image while looking for a place in Rawalpindi.
Google said the image was not created by an employee. The company has a group of vetted contributors who add to the Maps tool in order to keep Google Maps up to date, and one of those contributors drew the image.
"The vast majority of users who edit our maps provide great contributions, such as mapping places that have never been mapped before," said Caroline Matthews, a spokeswoman for Google. "We're sorry for this inappropriate user-created content; we're working to remove it quickly."
Google (GOOGL) is no stranger to so-called Easter eggs -- hidden treasures in its products. Just try typing "tilt," "do a barrel roll," "recursion," "anagram," "once in a blue moon," or "answer to life the universe and everything" into Google's search engine.
In Google Images, type "Atari breakout." Google Translate has Pirate, Elmer Fudd, Klingon and Pig Latin options.
There are literally dozens of Google Maps Easter eggs in addition to the Android peeing on an Apple (AAPL) logo, including a tie-dyed Street View character in Berkeley, California and a "royal carriage" transportation option when asking for directions to Windsor Castle.
A spokeswoman for Apple did not respond to requests for comment.