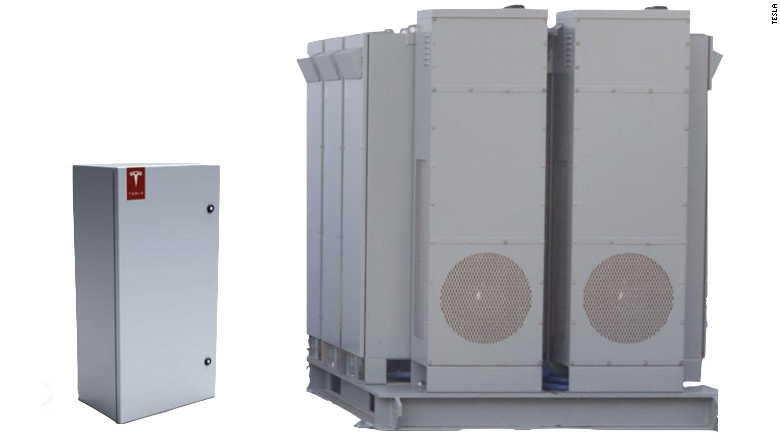 After a rough few months, Tesla's stock has finally finished recharging. Shares surged more than 7% Monday thanks to some bullish comments from analysts. And the stock is now up 5% for the year.
It's been a big comeback for Tesla (TSLA), which at one point was down nearly 20% this year due to concerns that low oil prices could hurt sales for its electric cars as well as worries about demand in China.
But analysts at Deutsche Bank and Credit Suisse both put out reports Monday morning touting the stock.
In particular, they believe that investors may not yet realize how much the company's new product -- a battery that can power the home and businesses -- could help Tesla.
Tesla will officially unveil its battery, a so-called stationary storage unit, on Thursday.
Related: Tesla wants to power your home with a battery
Credit Suisse analyst Dan Galves wrote that this new business could wind up eventually adding $35 to $40 a share to Tesla's market value.
Deutsche Bank's Rod Lache was even more optimistic, suggesting that the stationary storage could boost the stock by $100 by 2020.
Tesla is expected to work closely with alternative energy firm SolarCity (SCTY)on this initiative. Tesla CEO Elon Musk is also chairman of SolarCity.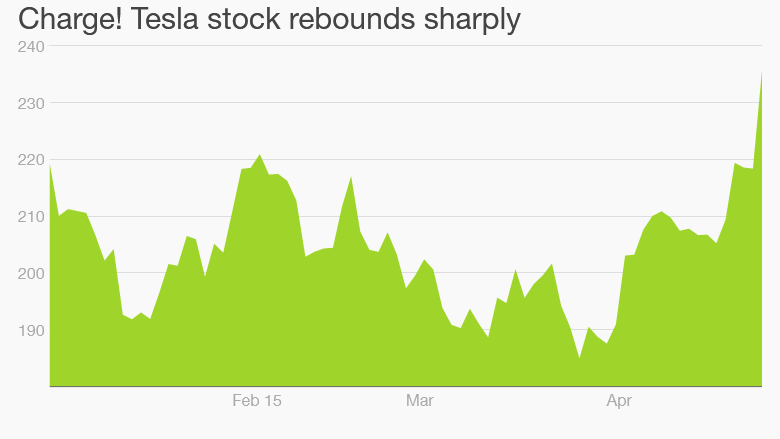 Galves has a price target of $290 for Tesla. That's more than 20% above where it's trading now and is just below the stock's all-time high from last year.
In addition to rising hopes about the new home/business battery, Galves thinks trends in the core car business are looking better as well.
He noted that improvements to its Model S sedan over the past few months should lead to higher order growth for Tesla around the world.
Related: Elon Musk didn't take a salary at Tesla last year
Galves added that since the Model S improvements will be factored into the upcoming Model X crossover vehicles, it will free up Tesla to concentrate more on its Model 3 car. That's the more affordably-priced vehicle that Tesla plans to roll out once its gigafactory is able to produce lithium-ion batteries at a mass scale.
Many analysts believe that the Model 3 is what can catapult Tesla from a niche car maker to one that is truly competitive with the likes of GM (GM), Ford (F), Toyota (TM) and Fiat Chrysler (FCAU).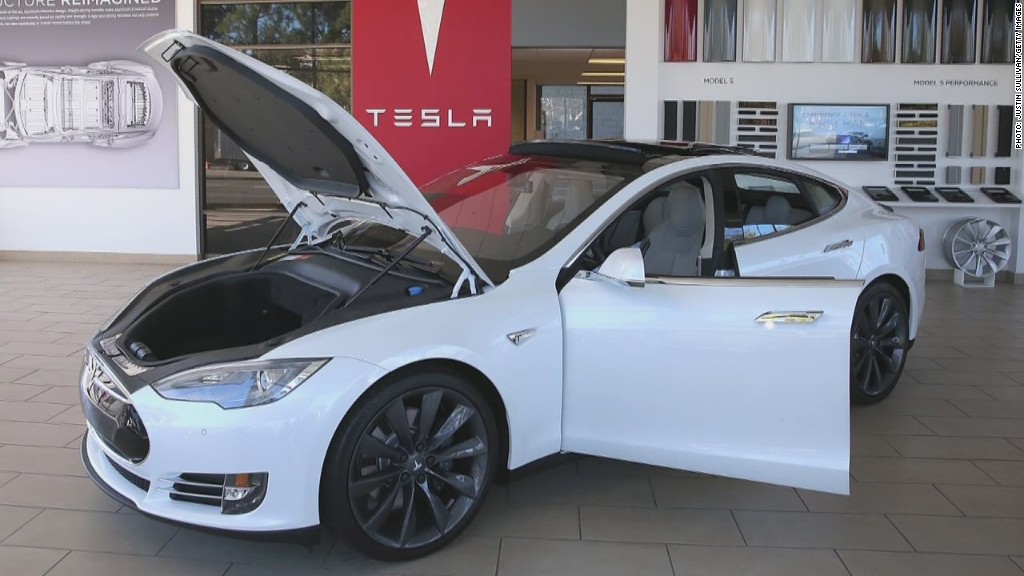 "We now expect that the Model X will launch at a much higher quality level than the Model S did in 2012 and thus will not require the same level of engineering focus post-launch. This will enable Tesla to move a substantial portion of its engineering focus to the Model 3," Galves wrote.
But the stock remains risky. Shares surged nearly 50% last year after a 335% explosion higher in 2013. Tesla trades at about 475 times 2015 earnings forecasts and 60 times profit estimates for next year.
That valuation is so astronomically high that you'd need one of Elon Musk's SpaceX rockets to reach it.
Related: Musk reportedly considered selling Tesla to Google
Analysts now expect losses for the first two quarters of this year and they have sharply reduced their earnings targets for the full year and 2016.
Still, it's worth noting that Tesla's stock has rebounded along with energy prices.
There have been concerns that if gas remains cheap for a long time, that would make average consumers less inclined to consider Tesla's cars.
So even though the new home battery business takes some of the pressure off Tesla's auto sales, the stock could closely mirror commodity prices. If oil heads lower again, there's a decent chance Tesla will follow crude's lead.