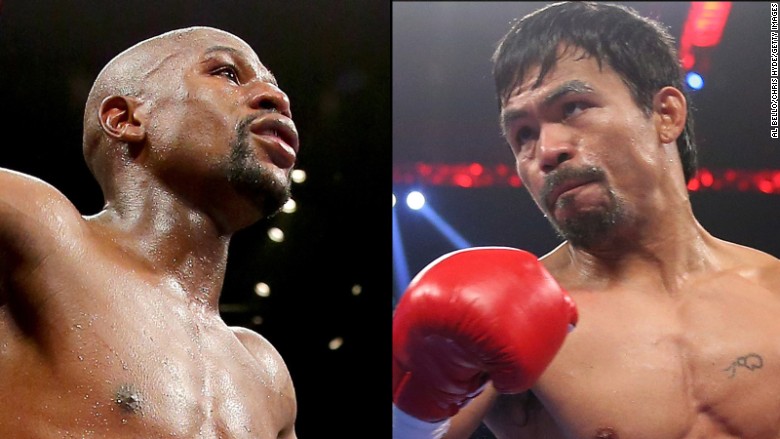 If you want to watch the huge Floyd Mayweather-Manny Pacquiao fight this Saturday and you aren't one of the 1 percenters heading to Vegas, you'll have to shell out nearly $100 to view it from home in HD.
Or you can go to a bar.
That will cost you too though -- even if you plan on watching it at a local Buffalo Wild Wings.
Buffalo Wild Wings (BWLD), the publicly traded restaurant chain that caters to sports fans, is going to charge a cover at a "handful" of company-owned restaurants.
Buffalo Wild Wings said nine corporate locations are carrying the fight and will have a $20 cover charge.
Related: Mayweather-Pacquiao tickets: The cheap seats cost $1,500
Its franchised restaurants have charged covers in the past for big fights. (Shareholders don't appear to be banking on a big boost from Floyd and Manny though. The stock tumbled more than 10% Wednesday following its earnings report.)
"It's difficult for us to gauge number of franchises carrying it and whether they are doing a cover charge or table minimum," a spokesperson for the company said.
In fact, one of the company's newest franchises in the Philippines -- which is where Manny Pacquiao is from -- will be showing the fight. It opened earlier this year.
The spokesperson said the Pasig City-located Buffalo Wild Wings is charging 2000 PHL pesos, approximately $45 -- a seat charge of $33 and a $12 minimum for food and beverages.
But CEO Sally Smith said during a conference call with analysts Tuesday that the cover charge for the company-owned restaurants was "due to the significantly increased cost of the fight."
Related: 10 ways Floyd Mayweather could spend his millions
Buffalo Wild Wings and other bars around the country have to spend a lot more than what it costs you and me at home to order the pay-per-view telecast.
Bars have to pay a licensing fee to promoters based on the legal occupancy of their establishment. That can run a business thousands of dollars.
And there have been several stories about how so-called "pay-per-view cops" often go to check up on bars and restaurants on the night of a big boxing or Ultimate Fighting Championship match to make sure they are legally allowed to show the fight.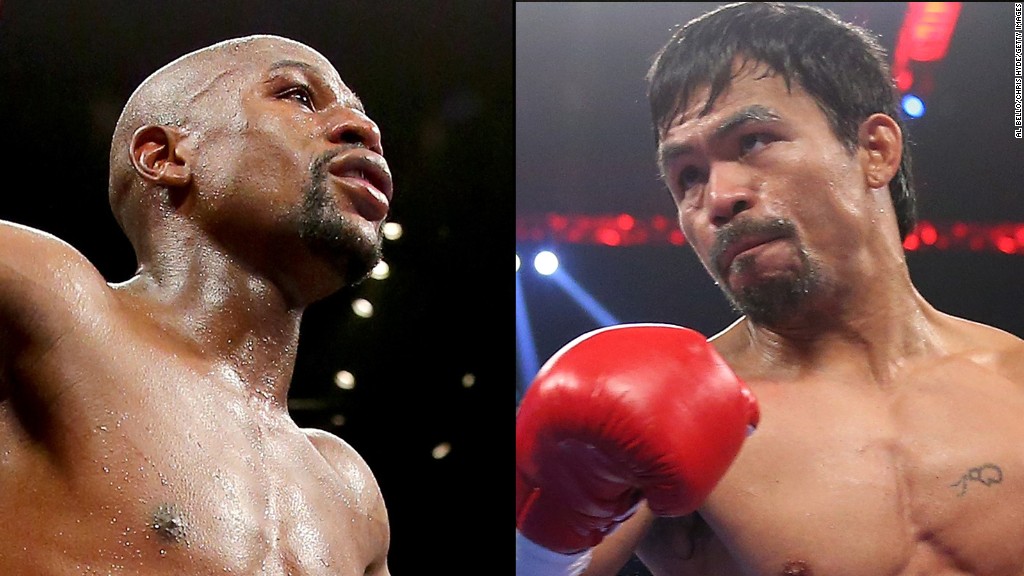 Buffalo Wild Wings is not alone in asking customers to pay an entry fee. Some places are cheaper than others.
It's only $20 at Lodo's Bar and Grill in Denver and the Revelry on Richmond in Houston.
The Promenade Bar and Grill in Manhattan is charging $100 -- but that does include top-shelf liquor and hors d'oeuvres.
Society on High in Boston has already sold out $35 tickets to come watch the fight on a standing-room only basis as well as $175 tickets for a VIP table for six.
But if you want to show up at Society on High without a ticket and snag a seat at the bar, be prepared to pay a minimum of $75 for food and booze.
At prices like that, it looks like getting a bunch of friends to come over for pizza and beer and split the pay-per-view cost sounds like the cheapest (and probably most fun) way to watch the Fight of the Century.