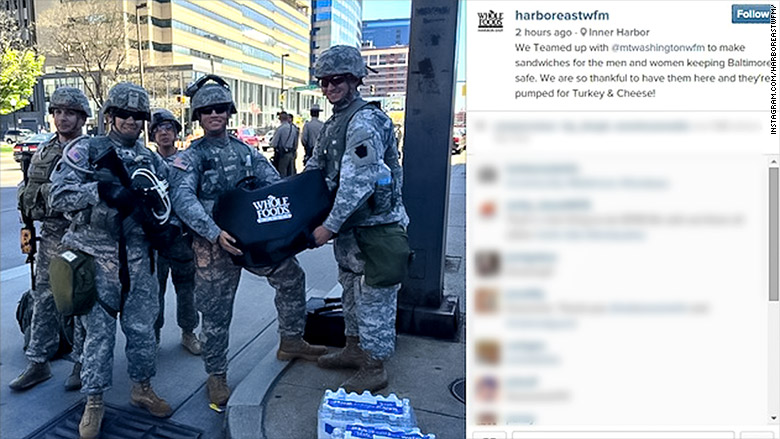 Whole Foods is finding itself in the middle of social media storm after one of its Baltimore stores posted a photo showing National Guard troops in the city getting sandwiches and water there.
On Tuesday, Whole Foods' Harbor East market posted a picture of troops holding a container of food, with cases of bottled water at their feet on the store's Facebook page. The posting said that store had teamed up with another Whole Foods nearby "to make sandwiches for the men and women keeping Baltimore safe. We are so thankful to have them here and they're pumped for Turkey & Cheese."
But after clashes between authorities and residents protesting the death of a man in Baltimore police custody, many people objected to the support for the troops. Some said the troops didn't need food beyond what's provided by the Guard and voiced concern for children in Baltimore who are missing out on free lunches since schools had been closed.
"@wholefoods feeding the National Guard in a city where most kids can't eat if schools are closed is the PERFECT American metaphor," tweeted one person.
Others called for a boycott of Whole Foods.
Related: Creator of 'The Wire' says Baltimore rioters should 'go home'
Whole Foods spokesman Mike Silverman said that the grocery chain is giving thousands of meals to rec centers in Baltimore so that children who are missing out on school lunches can eat.
"We're deeply involved in community in many different levels, and we've done that for a long time," he said, adding that the photo was taken down off the Harbor East store's Facebook page because "it created an impression that wasn't a true depiction of all the assistance we provide in Baltimore."
Related: CVS - Five Baltimore stores remain closed, two with 'heavy damage'
But some residents came to the defense of the store on social media.
"When @WholeFoods gets blasted for making sandwiches for Nat'l Guard at #BaltimoreRiots, this world has gone crazy," wrote a tweeter. Other thanked Whole Foods and said they would shop at the stores as a show of support for the company.