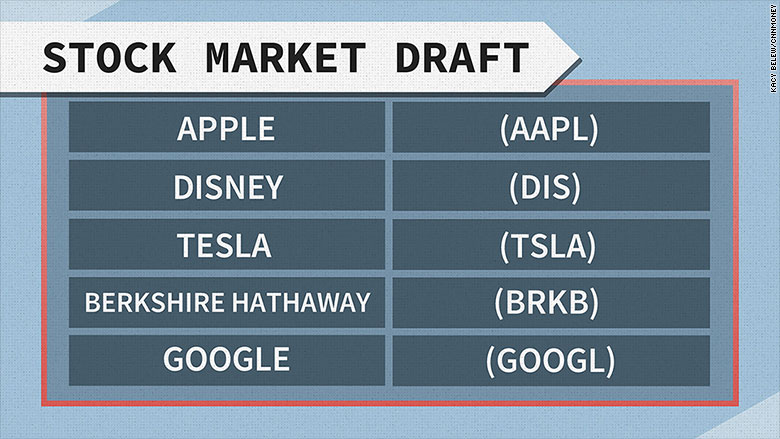 Football fans will watch, hope and pray that their favorite team's general manager doesn't mess up Thursday night with a bad pick in the NFL draft.
But you are your own personal GM. You control your own financial destiny ... and that includes your portfolio.
So if you could take just one stock in a market draft, what would it be? I asked my followers on Twitter. Here are some of your top picks.
Several decided to take the company that owns the cable network which will air the draft Thursday night.
"$DIS ESPN juggernaut, Marvel, Star Wars, Indiana Jones, Pixar, Frozen, Theme Parks, ABC, Massive Video Vault. Just own it," wrote @Tornopilsky.
"been said before, but have to go $DIS. Biggest reason? Not Star Wars or Avengers, but Shanghai Disney opening in 2016," added @craigellan.
Related: 'Avengers' assembling for shot at box office record
It is hard to bet against Disney (DIS) -- even near its all-time highs. Bob Iger must be the early contender for CEO of the year. The House of Mouse is on an epic winning streak. All of its businesses are clicking.
Disney is probably a lot less risky than Florida State quarterback Jameis Winston or Oregon quarterback Marcus Mariota.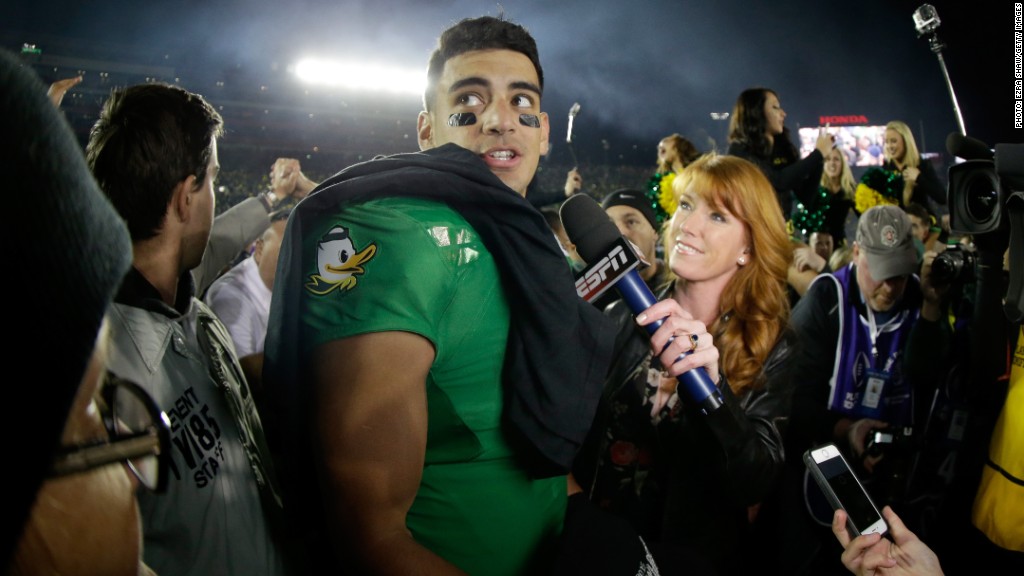 Another investor appeared to prefer a secondary play on Disney.
"$HAS just wait till 1st quarter of 2016," said @notoriouspaulie.
Great point. Hasbro (HAS) should mint money once it takes over the Disney Princess line of toys from Mattel (MAT). But it's already doing huge business thanks to Disney. It sells Marvel and Star Wars toys and its stock is near an all-time high. By the way, I am jealous of your @notoriouspaulie Twitter handle! Wish I had thought of it.
Another follower is betting on Warren Buffett.
"If just one stock and want the best diversification, I'd probably take $BRK'B," wrote @musicandwork.
Makes sense. Even though Berkshire Hathaway's (BRKB) own investment portfolio has gone cold so far this year, the core business is strong and gives you exposure in the financial, consumer and industrial sectors.
Related: Many of Buffett's favorite stocks are having a lousy 2015
For what it's worth, I would probably take Google (GOOGL). But I didn't find too many people that agreed with me. Instead, many preferred a key Google rival that also happens to be the world's most valuable company.
"Why $GOOG? Itoo many to pick from but i'd start w/ $AAPL," wrote @wboscoho.
"Hard to argue NOT taking $APPL with the #1 pick, right? #MoMoneyNoProblems?" added @JStanghini.
Ha! Well the Apple Watch might be a tiny problem. But the iPhone business appears to be unstoppable.
One note to @JStanghini and other investors though. The ticker for Apple (AAPL) is AAPL, not APPL. A lot of people mix that up. Luckily, nothing has APPL as a ticker. So you don't face the risk of buying the wrong stock.
Related: Tattoos may stop Apple Watch from working
Finally, one follower is going electric with his pick.
"Early in the draft, you've got to consider $TSLA. Mel Kiper might say there's still tremendous upside," wrote @mikebush.
Nice. Tesla (TSLA) is a solid first-rounder. It could be the Odell Beckham Jr. of stocks. High risk but high reward. (Go Giants!)
And speaking of Kiper, I'd argue that Tesla CEO Elon Musk has better hair!