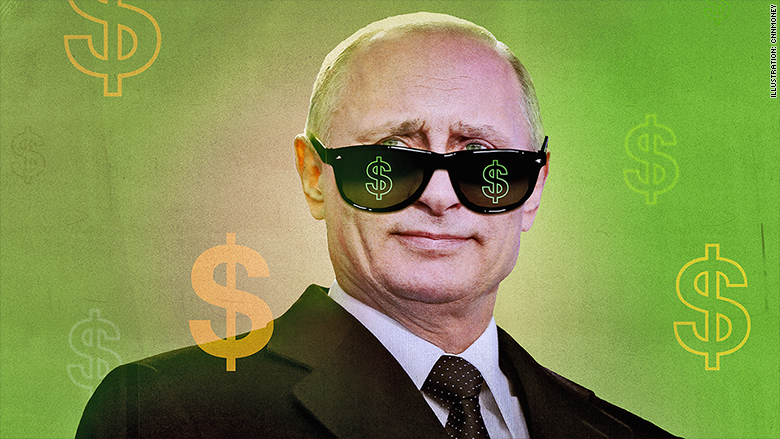 Russia seems like one of the riskiest places on the planet to invest in.
The country's currency suffered an epic implosion last year, its stock market crumbled and Moscow is living under the constant threat of new sanctions that could further cripple the economy. Oh yeah, and oil -- one of its main exports -- experienced a meltdown as well.
Despite all that, billionaire David Bonderman believes there's lots to like about Russia, a market that his private equity firm has been investing significantly in over the past several years.
Bonderman is especially attracted by the fact that Russian asset prices have taken a hit since the conflict with Ukraine began. And the country is starved of capital investment. That means deals can be had.
"Returns tend to be better in places where either the troops are in the street, or the prices are low," Bonderman said during the Milken Global Conference in Los Angeles. "If you're a mid-to-long term investor, the Russian market has some attractions to it."
Related: Now might be the time to buy Russia. Yes, really
Betting on Russia: Those investors brave enough to get back into Russia this year are smiling.
The ruble has skyrocketed about 25% against the dollar over the past three months, and even more against the euro. The currency has benefited from rising oil prices and last year's aggressive interest rate hikes by Russia's central bank. The benchmark Micex stock market index has climbed 20% this year.
TPG Capital, which Bonderman co-founded in 1992, has been among the most active private equity firms in Russia. In 2011, it invested $100 million in VTB Group, a Moscow-based financial institution.
Related: Who needs McDonald's? Russia to launch own fast-food chain
Sanctions create headaches: That investment got a little awkward last year when a subsidiary of VTB got slapped with economic sanctions by the U.S. and Europe. Bonderman even ended up stepping down from a VTB supervisory board as the situation worsened.
While Bonderman said it's extremely important investors don't fall foul of sanctions, he's far less concerned with the economic impact of sanctions to this point.
"Sanctions are perfectly set up not to work at all but to make a political statement," the billionaire said.
If it wanted to, the U.S. could effectively shut down Russia's economy by cutting off its access to finance, Bonderman said. He was alluding to speculation that the U.S. could get Russia banned from Swift, the system used by banks around the world to make transactions.
Sanctions "are designed to be an irritant, not to be effective. There isn't any will to have effective sanctions," he said.
Related: Sanctions will cost Russia more than $100 billion
Sanctions = opportunity: Ruben Vardanian, a Russian businessman, told the crowd at Milken he largely agrees with Bonderman's bullishness on Russia. In fact, he sees the sanctions as a potential positive for savvy investors.
"The restrictions create the opportunity to make more money. For many investors, Russia looks very attractive. It's such a huge market," said Vardanian, a former bank CEO.
While he acknowledged the unpredictability in Russia, he said that's outweighed by other factors like companies' high profit margins.
"We made more money in Russia than any other country. For many investors, Russia looks very attractive. It's such a huge market," Vardanian said.