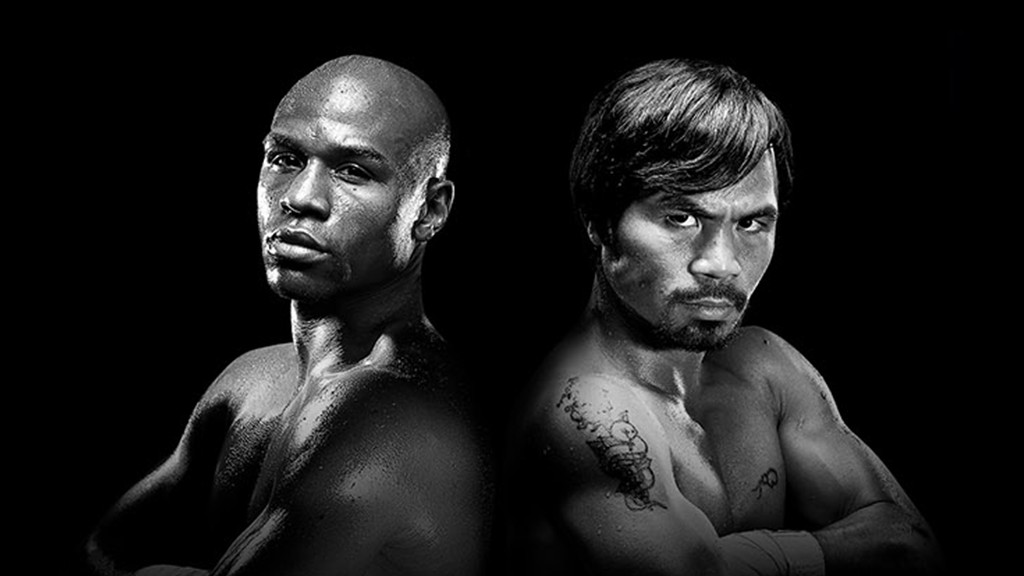 The $99.99 millions of fans will pay to watch Saturday boxing match will give Floyd Mayweather and Manny Pacquiao the single biggest payday in the history of sports.
The two fighters will be duking it out to split a prize estimated to be at least $200 million. Pacquiao has agreed to take home 40% of the purse, or about $80 million, while Mayweather would get almost $120 million.
The final total will depend on just how well the historic fight sells, both on TV and off.
The $99.99 viewers will pay for an HD broadcast is itself a record, up from about $75 for recent fights. With about 3 million households expected to tune in, it should smash the previous record of 2.5 million for the 2007 bout between Mayweather and Oscar De La Hoya.
Related: Saturday might be biggest day ever for sports TV in U.S.
Here's how the expected Mayweather-Pacquiao revenue breaks down:
Pay per view: Of an estimated $300 million in pay per view revenue, the boxers will get about $150 million. Most of the rest will go to cable operators.
Licensing: Thousands of bars and restaurants will also be showing the fight, and they'll be paying for the rights. Licensing fees can run from $5,000 to $15,500 per establishment. That adds up to tens of millions of dollars, split between the boxers and cable operators.
Leo Fonseca, CEO of Stephanie's Restaurant Group in South Boston, said he's already close to sold out at his two bars showing the fight.
"I was sort of against the idea of doing this. The licensing fee was staggering and I didn't see us covering the fee," he said. "But I was certainly proved wrong."
Overseas rights: Pacquiao is a national hero in his native Philippines. He's also extremely popular in Latin America. So overseas rights fees likely are bringing in tens of millions more.
Ticket sales: The fight will be at the MGM Grand in La Vegas, which can hold nearly 17,000 for a boxing match. Ticket prices ranged between $1,500 and $7,500 per seat, which is generating roughly $50 million. The boxers get most of the gate.
Related: Pay per view police to be on prowl during Mayweather-Pacquiao
Mayweather is widely believed to be the best-paid U.S. athlete, despite the fact that he has no endorsement income to speak of. But a nine-figure payday dwarfs even his previous record payout of more than $40 million for a fight.
Boxing isn't nearly as popular as it once was, but pay-per-view has given fighters a source of income that athletes in other sports can only dream about. Basketball, football and baseball players have to play for years to get that kind of money.