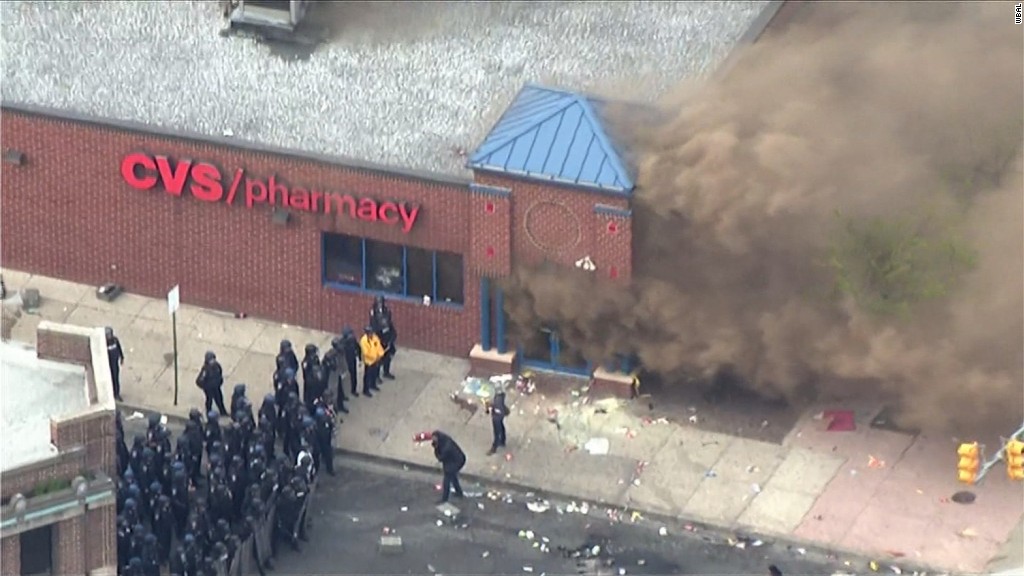 As Baltimore protests over police conduct turned violent Monday, CVS closed a nearby store that was later looted and set on fire.
None of its employees or customers were in the store when looters broke in, the company said.
CVS shut the store at 3 p.m. and the fire broke out several hours later.
Rioters also looted a check cashing store, set patrol cars on fire and threw rocks, bricks and other items at police. They later cut a fire hose that was being used to put out the CVS fire.
Authorities said 15 officers were injured. Police made nearly 202 arrests after 144 vehicles and 19 structures were set on fire during the night, according to Howard Libit of the Baltimore Mayor's office.
The violence followed Monday's funeral for Freddie Gray, who died in policy custody under circumstances that remain unclear.
The recent death of Gray, who was 25, has sparked ongoing protests in Baltimore and raised long-simmering tensions between police and residents.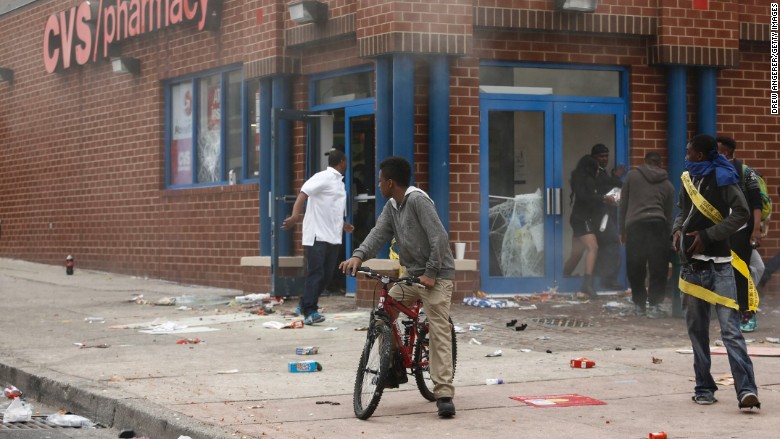 Five CVS (CVS) locations affected by the protest activity remained closed Tuesday, according to a company post on Twitter. The national pharmacy and grocery chain has 22 stores in Baltimore.
On Tuesday morning, some community members showed up with brooms to cleanup the mess left outside the burned down CVS on Pennsylvania Avenue.
Laquicha Harper, 30, called the destruction "heartbreaking."
"Now it's about picking up and cleaning up for own community," Harper said.
Maryland Gov. Larry Hogan declared a state of emergency for Baltimore late Monday and activated the National Guard to help local authorities get control of the riots. And Baltimore's mayor announced a citywide curfew, lasting for a week, between 10 p.m. and 5 a.m. daily. It will go into effect on Tuesday.
--CNN's Dana Ford contributed to this report.