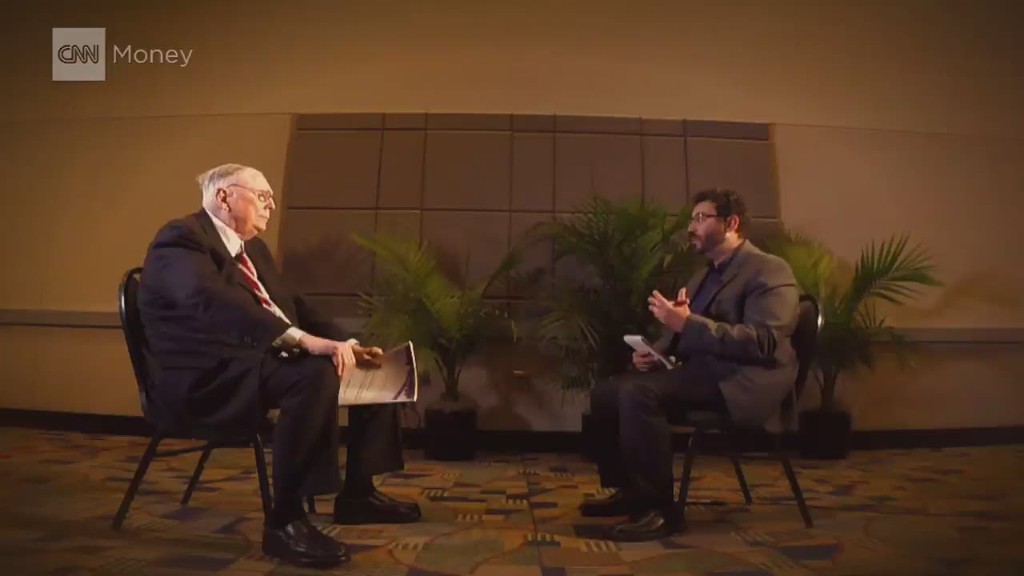 Billionaire Charlie Munger was raised in Omaha. But he's lived in Los Angeles for decades.
So the Berkshire Hathaway (BRKA) vice chairman and yin to Warren Buffett's yang knows about civil unrest like what has taken place in Baltimore.
"I've seen a lot of riots," Munger said.
I asked Munger about income inequality in Baltimore and other places where protests have been sparked by police treatment of minorities.
He said police departments in "tough neighborhoods" often make mistakes and that some cops are "flawed people." But he stopped short of defending the unrest.
"Some of the people that are complaining -- it's legitimate protests. And others just want to burn or shoplift," he said. "It's all mixed up and everybody hates it. The people who suffer the most are the tough neighborhoods where it happens."
Munger said there is no easy solution. But things have gotten better -- particularly from a civil rights standpoint, he said.
"A hundred years ago, it was way worse. You had the Ku Klux Klan. We had all kinds of lynchings. Things have greatly improved. It's just that we are not nearly perfect," he said.
The topic of income inequality -- and how Berkshire (BRKB) profits from the poor -- came up several times during Berkshire's shareholder meeting Saturday.
Related: The other Oracle of Omaha
There were also a few questions about a report that accused Berkshire subsidiary Clayton Homes of predatory lending practices.
Munger and Buffett defended Clayton in the meeting. And in our interview, he called the criticism of the homemaker, which caters to low-income consumers who often have bad credit histories, "totally misguided and unfair."
"It's a very honorable place that helps a lot of poor Americans with poor credit ratings get houses -- 97% of them end up with the houses, 3% get foreclosed," Munger said. "That's a fabulous success record."
But he also said that some big banks still have issues in their lending businesses.
During the meeting, he said it's "nonsense" to think that new regulations put in place after the financial crisis had made banks less risky.
It's a telling comment. Berkshire is a big investor in banks. Wells Fargo (WFC) is its largest holding, and it owns stakes in Bank of America, (BAC) U.S. Bancorp (USB) and M&T Bank. (MTB)
"Wells Fargo behaves better than the average big bank. But nobody's perfect."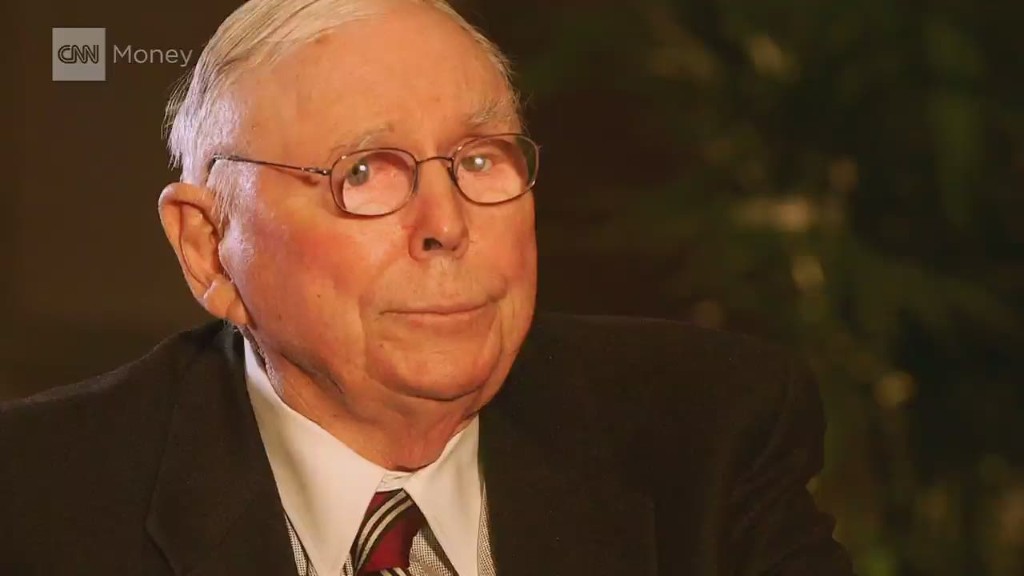 Munger spoke frankly about a bunch of other topics.
The 2016 presidential election race: Munger is a Republican. But he said there was no specific candidate he was willing to support or endorse just yet.
"I tend to like the more moderate Republicans instead of the extremists," he said. But he added that he had no dream candidate either.
"They're all flawed," he said.
How he would feel if Democratic frontrunner Hillary Clinton wins the White House?
"I will adjust comfortably. I'd rather have a Republican. But I will adjust because I have to," he said.
Related: Buffett fans splurge on ice cream and ketchup
More deals with 3G: Berkshire was also attacked by some shareholders for its partnerships with private equity firm 3G Capital, which has often laid off workers at companies it has acquired.
"We have no criticism of 3G," he said. "We think that they are trying to operate in an ethical, sensible fashion. They are just a little different than us."
Munger said that Berkshire looked forward to working more closely with 3G on other big deals.
How big could they get? Is an eventual takeover of poorly performing Berkshire investment Coke (KO) a possibility? You could never say never, right?
"I'd almost say never when it comes to Coke. Coke is an old friend of ours," Munger said.
Life without Munger and Buffett: Will tens of thousands of people still flock to Omaha after they've retired? Munger is 91, and Buffett is 84.
Munger said that people will still come as long as Buffett is there.
"Of course it works better if there are two. But if there's a vacancy it can be filled," he said. "I'm not the only wise ass in the world. Warren can find another wise ass."
Many shareholders may disagree. It's hard to imagine Warren taking the stage without Charlie at his side.