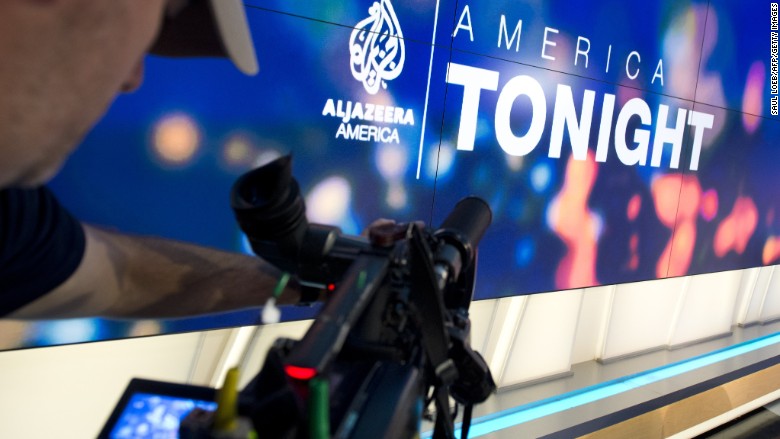 Al Jazeera America responded on Monday to a lawsuit alleging that a top executive engaged in sexist and anti-Semitic behavior even as yet another top executive said that she is leaving the embattled channel.
The TV channel on Monday said it refuted reports about intolerance or gender bias in its organization.
Also on Monday, Marcy McGinnis, who served as senior vice president of outreach at AJAM, said she is resigning from her position. In her resignation letter, McGinnis alluded to an all-hands meeting held last week by the TV channel's CEO Ehab Al Shihabi.
"Last week, Ehab reminded us at the Senior Leadership meeting and again at the All Hands meeting that anyone who felt they could not support the decisions or direction set forth by him and the Al Jazeera Media Network would be welcome to leave," McGinnis said in her letter, which was obtained by CNNMoney and reported earlier by TVNewser. "I find myself at that crossroads now and so have decided to resign."
CNNMoney previously reported that Al Shihabi told staff members at the all-hands meeting that the company will fight the lawsuit filed by Matthew Luke, the channel's former director of media and archive management who was fired in February. Publicly, AJAM isn't saying much about any of the turmoil.
Al Shihabi and the channel's president, Katie O'Brian, held a press briefing on Monday in a conference room in AJAM's lower Manhattan office.
At one point during the briefing, O'Brian began to address the resignation of McGinnis.
"Marcy has decided to leave us and she let us know today that this is -- this is her decision," O'Brian said as an AJAM attorney slid her a note with instructions to not discuss personnel matters. O'Brian read the note, and quickly wrapped up her response.
"And as we have said many times in the past when many of you have asked questions, we don't really go into personnel issues and so we're going to leave it at that," O'Brian said.
Separately, Luke is seeking $15 million in his lawsuit against AJAM, alleging that he was fired 10 days after he went to human resources to complain that his boss, Osman Mahmud, discriminated against women and made derogatory remarks about Israel and the United States.
In the complaint, Luke claims that Mahmud removed female employees from projects to which they had been assigned by other managers, and that he once tried to replace an Israeli cameraman with a lesser qualified Palestinian cameraman. Moreover, Luke asserts that Mahmud once said that supporters of Israel "should die a fiery death in hell."
Mahmud vigorously denied the allegations in an interview with The Washington Post. AJAM responded to Luke's lawsuit last week with a boilerplate statement, saying it "does not comment on pending litigation."
The channel remained mum during the press briefing on Monday afternoon, repeatedly declining to discuss the lawsuit or any of the damning accusations against Mahmud. Al Shihabi used much of the briefing to criticize what he deemed unfair media coverage about AJAM. Recent reports have indicated that the channel is currently carrying out layoffs and reshuffling programming.
AJAM lost two other top officials last week in executive vice president for human resources Diana Lee and executive vice president for communications Dawn Bridges. Lee addressed her resignation at the all-hands meeting, according to a source who was there, saying that she was leaving AJAM to pursue other things. An AJAM spokesperson said that both resignations were months in the making.
In a news release that preceded the briefing on Monday, AJAM said it refuted reports about intolerance or gender bias in its organization
"These reports are false and malicious and are designed to mar the exceptional talent and diversity of its employees and the values that Al Jazeera America upholds," AJAM said.
Related: Al Jazeera America exec tells staff he will fight lawsuit
Correction: An earlier version of this story misidentified Osman Mahmud, AJAM's Senior VP of broadcast operations and technology.