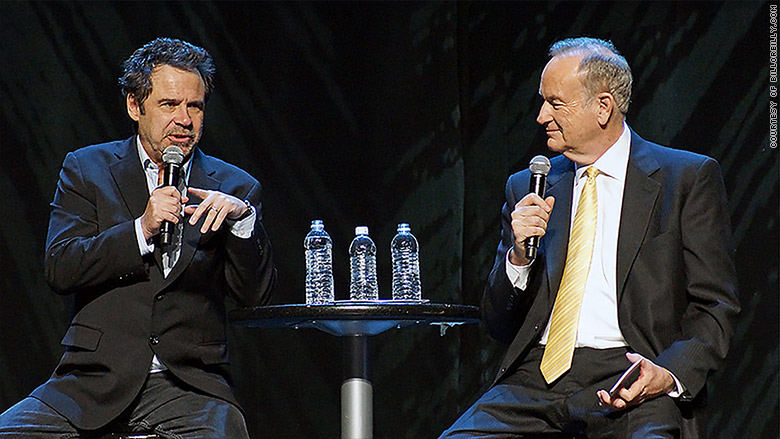 When Bill O'Reilly is looking for laughs, he often dips into his repository of impersonations.
He does a mean James Carville.
"'Mr. President, where are yooou?'" O'Reilly said during a live performance on Saturday night. His voice mimicked the Cajun accent of the famed Democratic operative. "'We're dyin' down here-uh. But you're up there! You need to get down here-uh!'"
There are seasoned comedians who will never kill like O'Reilly did at the NYCB Theatre in Westbury, New York. It was the latest stop in the "Don't Be A Pinhead Tour," a nationwide slate of sporadically scheduled performances starring O'Reilly and Dennis Miller.
O'Reilly toured the country in a similar fashion with Glenn Beck, the former Fox News host who left the channel in 2011. Since then, O'Reilly has toured with Miller, the conservative comedian who appears regularly on O'Reilly's top-rated Fox News show.
Some tickets for Saturday's show went for more than $450.
Westbury, a village not far from where O'Reilly grew up on Long Island, has played host to the tours before. The 3,000 in attendance included Joe Baccoli and his son, Stephen, who drove from a nearby town. Stephen isn't an O'Reilly fan, but he bought his father a ticket as a Christmas present.
"Everything he seems to report is factual," the elder Baccoli said of O'Reilly. "He investigates it first before he reports it. And I've never seen him have to make a retraction."
Joe Baccoli said he wasn't familiar with the questions raised by critics this year about O'Reilly's various embellishments.
Neither were Deb and Jody Nihart, who came to Westbury from Indiana.
The Niharts were visiting Manhattan and Niagara Falls. But, Deb Nihart said, "the trip was built around this because we've always wanted to see Bill O'Reilly and Dennis Miller."
The stars of the show operated like tag-team partners. Miller opened with a set, which was followed by O'Reilly's own solo monologue. An intermission was followed by 30 minutes of prescreened questions from the audience. The whole thing lasted about two hours.
Miller, the "Saturday Night Live" alum, warmed up the boozy crowd with a series of zingers aimed at conservative targets. He lampooned global warming activists, joking that Al Gore has "a carbon footprint like Emmett Kelly with plantar fasciitis."
Nancy Pelosi, Miller cracked, looks like she's "perpetually witnessing the docking of the Hindenburg."
The only joke that didn't land was the one Miller told about Bill Cosby distributing water at a marathon.
"See, by him passing out the water he would have rohypnol in it," Miller explained.
The audience groaned.
"You don't want to defend him. Bad guy," Miller said of Cosby, who has been accused of rape by dozens of women.
For O'Reilly, it was a show for his most loyal constituents, who he refers to affectionately as "the folks." They cheered loudly when he said that the country needed "a good, strong leader" in the White House. One audience member who submitted a question asked if the "government should pay to rebuild Baltimore" after the recent unrest over the death of Freddie Gray. Several people in the crowd shouted "no."
"What an interesting question," O'Reilly said. Ultimately, he decided that he would only support the reconstruction effort if there was a "big change in culture in those neighborhoods."
At a different point on Saturday, O'Reilly employed his voice-alteration skills to mock the people who protested and rioted in Baltimore last week.
"'We need jobs. We need jobs down here. We need jobs,'" he said in an unusual intonation that made him difficult to understand.
"OK, great. Let's burn the CVS down. That'll help out," O'Reilly continued, reverting back to his normal voice. "Let's force the baseball team out of town. That did a lot of good for all the vendors."
That was perhaps his most serious moment of the evening. Most of the time, O'Reilly played for laughs.
When he discussed President Obama's embrace of New Jersey Governor Chris Christie after Superstorm Sandy, O'Reilly quipped: "You may not have seen the president because he was behind the governor."
He said that Rosie O'Donnell could have been used to cap the well after the 2010 BP oil spill, but there was "not a crane big enough in the world" to lower her into the Gulf of Mexico.
O'Reilly took a jab at Hillary Clinton, too.
The joke's setup: The Chinese sent 2,000 pantsuits to the Clinton Foundation, which has been the subject of recent criticism over its foreign donations. To escape scrutiny, O'Reilly explained, the foundation sent the former secretary of state's preferred attire back to Beijing.
He brought the joke home with yet another impersonation.
"We don't want them back,'" O'Reilly said, Chinese accent and all. "'They don't fit anyone here in this country.'"
Related: Elizabeth Warren is clickbait
Related: 'Avengers: Age of Ultron' gets second biggest box office opening