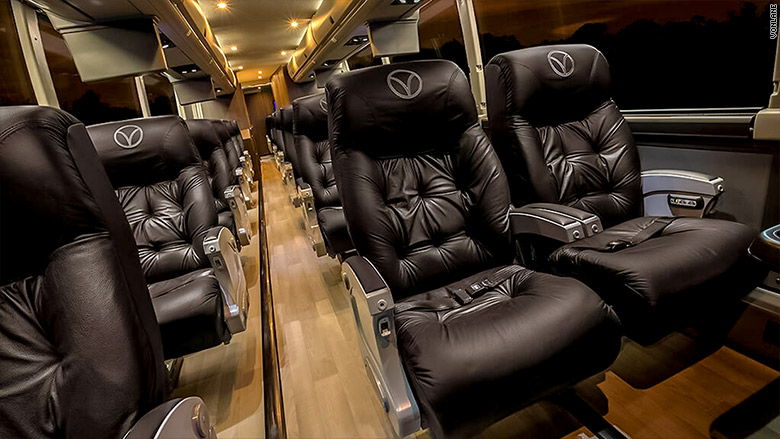 This is not the bus you remember.
Last year, a company called Vonlane started running regular bus service between Dallas and Austin, Texas. But instead of being crammed in a smelly old coach, Vonlane outfitted its buses with less than half the usual number of seats.
The seats themselves are leather, of course, and the floor is a wood laminate. There's a full bathroom, wifi, satellite TV and radio. The kitchenette is stocked with complementary snacks and drinks, and an array of food is served at meal times -- all brought to you by an attendant.
The three-hour trip costs $100 -- more than a flight purchased in advance but less than a last minute booking. Yet the service isn't designed to compete on cost alone.
"Folks here are fed up with the airport rat race," said Vonlane founder and CEO Alex Danza. "And with all the congestion, driving yourself is exhausting."
Related: Planes, trains cars and buses: what's best for the earth?
Vonlane is one of a handful of new companies in the luxury bus space. It's part of a surge in the number of new offerings in express, city-to-city bus service -- both luxury and discount. Driven largely by European money, America finally has what Europeans and Asians have enjoyed for decades: Decent buses.
Since 2010, the number of intercity express trips has doubled -- from around 500 a day to over 1,000, said Joseph Schwieterman, a transportation professor at DePaul University.
What started as a niche service in Chicago and on the coasts now serves nearly every major U.S. city. The target customer isn't necessarily someone who would take a regular bus, but someone who would fly or drive.
Related: The rise of luxury vans
"It's a radical transformation, and only in the last two years has it truly become a national force," said Schwieterman. "The product is no longer just college kids trying to get someplace cheap."
He credits the growth to three things: Long lines and hassles at airports following Sept. 11; increased urbanization (these buses usually pick up and drop off right downtown); and the advent of mobile technology.
"An extra two hours on the bus is no longer a big deal," said Schwieterman. "People just bring their office with them."
There are now over 15 companies in this space, not counting the Chinatown and Latino operators, which tend not to have upgraded services and serve a different demographic.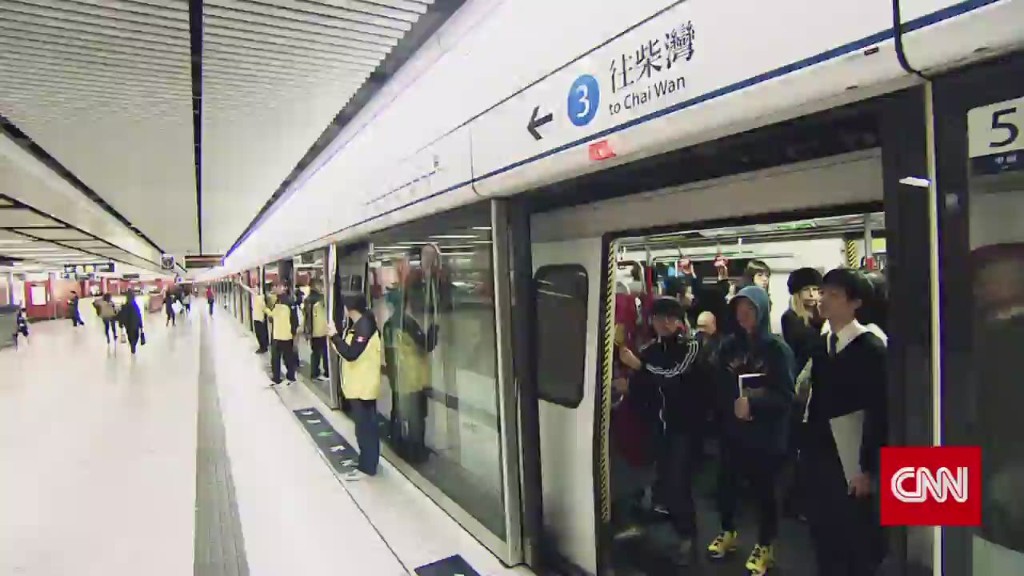 The biggest company by far is Megabus -- which runs 70% of the trips, said Schwieterman.
Megabus started in Chicago in 2006 and is now nationwide. It's not nearly as luxurious as Vonlane, but it still offers things like wifi, outlets and guaranteed seating. The company is a subsidiary of the U.K. firm Stagecoach.
In Europe, intercity express bus travel had been common for years, and Stagecoach saw a opportunity in the U.S. market.
"It was making it a more sexy alternative than it used to be," said Megabus head Dale Moser. "But when we shared our vision for our plan, the traditional guys looked at us like we were a little crazy. Change was not something the industry had seen."
Nine years and hundreds of millions of dollars later, Megabus now moves nearly a million people a month, said Moser.
Its success has prompted others to up their act. Even Greyhound (also owned by a European company) started Megabus competitor Bolt, and has spruced up its own offerings on certain routes, with outlets, wifi and leather (or leather-like) seats.