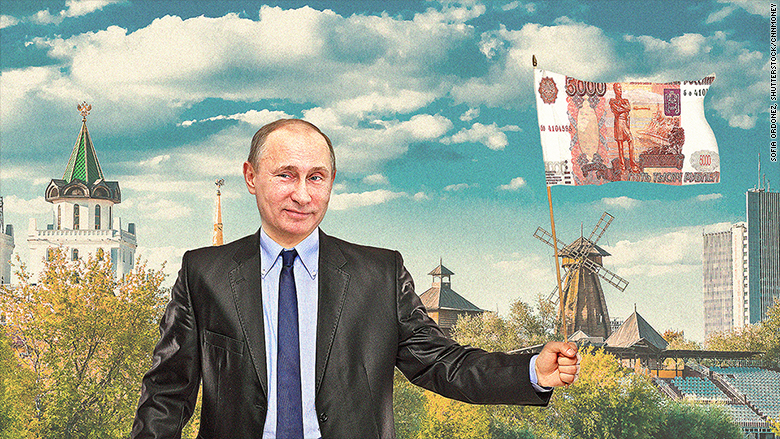 Russia and China are once again saying, "Take that, America."
President Vladimir Putin approved a new $100 billion reserve fund over the weekend that will specifically aid the BRICS nations: Brazil, Russia, India China and South Africa.
It's another step by the BRICS to build an alternative so they don't have to go to the United States or the International Monetary Fund for any financial help.
BRICS leaders first agreed on the new fund -- seen by many as a power play against the west -- at a conference last July. The BRIC countries make up 40% of the world's population and about 20% of the world's economic activity.
Related: Emerging market stocks are surging
The reserve fund will help BRICS countries with cash problems. It will get most of its seed funding from China, which will contribute $41 billion. Russia, India and Brazil will put in $18 billion each, and South Africa will give $5 billion. The timing is critical as many emerging market nations and businesses are struggling to pay their debt for various reasons.
China is also moving forward with its own investment bank, the Asian Infrastructure Investment Bank, which America isn't supporting financially.
That bank has quickly become a thorny issue for President Obama. European nations, such as Britain and Germany, defied U.S. requests to withhold membership, and chose to back China's bank.
Related: Biggest loser from the strong dollar: emerging markets
Last week Obama said he's "all for" China's investment bank, but wants to make sure it's operated properly before the U.S. joins. But both the bank and the fund appear to be an effort by the BRICS reduce reliance on U.S. and western Europe for investment.
IMF Director Christine Lagarde said last October that she sees the new BRIC reserve fund as complementary to the IMF, not a rival. The IMF's total reserves amount to about $1 trillion, according to an IMF spokesperson.
"I don't see it, as some people have said, competing with the IMF," Lagarde said at a press conference. "We will be working and partnering with this arrangement if it endures."