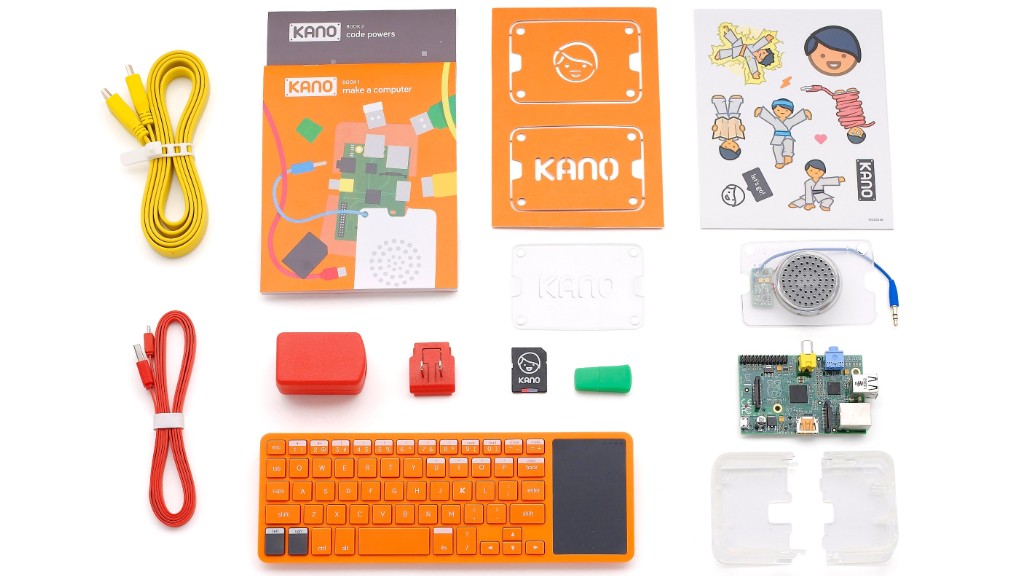 Dude, you're getting a ... Kano.
That's right. Your kid's first computer might be one she builds herself. For $149, kids (or adults) can build a computer and learn basic coding skills to program it.
"Kano is a new type of PC," said co-founder Alex Klein at TechCrunch Disrupt on Monday. "One that is creative, low-cost, physical, fun. We think that can be mainstream, mass market."
It appears investors agree. Klein, 25, announced $15 million in funding, in a Series A round led by Breyer Capital Collaborative Fund and other investors, including British economist Jim O'Neill.
Kano previously raised $1.5 million on Kickstarter in December 2013, surpassing its $100,000 campaign goal -- which it hit in just 16 hours.
The colorful Kano kit must be assembled (pieces are manufactured in China). It contains twelve components, including: Raspberry Pi board (the brains of the computer), build-your-own speaker, wireless orange keyboard, transparent case, WiFi connector and two illustration books (kid-friendly manuals that read like stories). You'll need your own monitor, as it's not included.
The recent funding will go toward Kano's new computer kit, which features an upgraded Raspberry Pi 2. This will make the computers six times faster. The new kit also includes additional updates, like new code blocks and challenges.
For the 40,000 people in 86 countries who already possess the Kano, there's a also Powerup Kit, which lets users repurpose the Pi 1 into the Pi 2.
Even as it enters the big leagues, Kano isn't forgetting its crowdfunding past.
Kano also launched a campaign on equity crowdfunding platform Quire to raise $500,000 that will go toward the round. That way, the community can get more than just a computer kit -- they can take equity in the firm.
"We feel the more participatory this company is, the more accessible the final product will be," Klein said, noting that they'll leverage the platform to solicit feedback and ideas, much as they did with Kickstarter.
Though the average age of a Kano user is 9.5 years old, Klein said there's no one-size-fits-all when it comes to customers: "45-year-old veterans of Operation Desert Storm, 81-year-old grandmothers ... artists, painters. It's beautiful."
Klein said they want to "democratize the ability to make technology, not just consume it," he said.
That's the reason Kano's products ship for free -- so there's no impediment for users in certain parts of the world.
"We're trying to put that creative, experimental, improvisational power back into the hands of the people," Klein said.