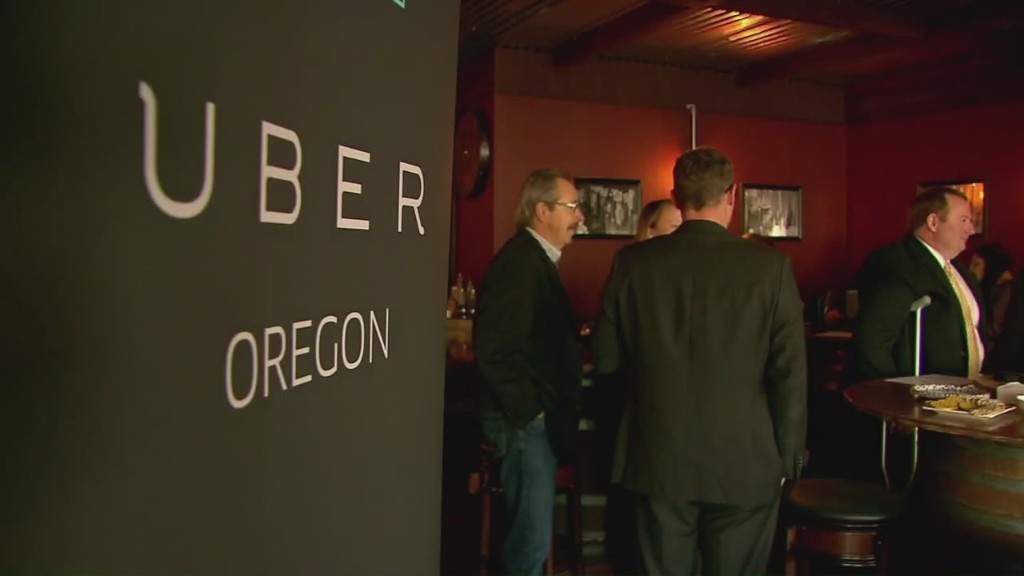 Taxi-hailing app Uber just can't catch a break in China.
Uber's office in the southern Chinese city of Guangzhou was raided last week by local authorities, who have accused the company of operating without a license and allowing private-car owners to offer taxi services, according to state media.
Uber did not immediately respond to a request for comment, but the company has previously said it doesn't work directly with private-car owners in China.
Running afoul of regulators is nothing new for Uber, which has faced legal challenges in countries around the world on its way to a $40 billion valuation. In India, for example, the company has been chastised for operating without the proper licenses.
But Uber has a much bigger problem in China: It was late to an already saturated market.
Two homegrown companies have long waged a battle for taxi-app supremacy in China. One, called Kuaidi Dache ("Speedy Taxi") had the backing of e-commerce firm Alibaba (BABA). The second, Didi Dache ("Honk Honk Taxi"), received funding from Tencent (TCEHY), the country's other Internet giant.
The tech tie-ups were hugely important for both apps. In addition to investment dollars, Didi Dache and Kuaidi Dache got easy access to hundreds of millions of potential customers who were already using the digital social platforms operated by Tencent and Alibaba.
Didi Dache and Kuaidi Dache would go on to engage in a fierce competition for customers, before finally calling it quits and announcing a merger in February. According to one estimate, the firms control 99% of the Chinese market.
Uber, which made its China debut in February 2014, has sought to close the gap. The company currently operates in about 10 Chinese cities, and has advertised a big hiring push to build its staffing levels. In December, it struck a deal with Baidu, giving it access to the leading Chinese search engine's mapping and mobile technology.
But progress has been slow. In recent months, rumors have swirled over a possible merger between Uber and Yidao Yongche, an upscale Chinese competitor that could help Uber make real inroads in China.