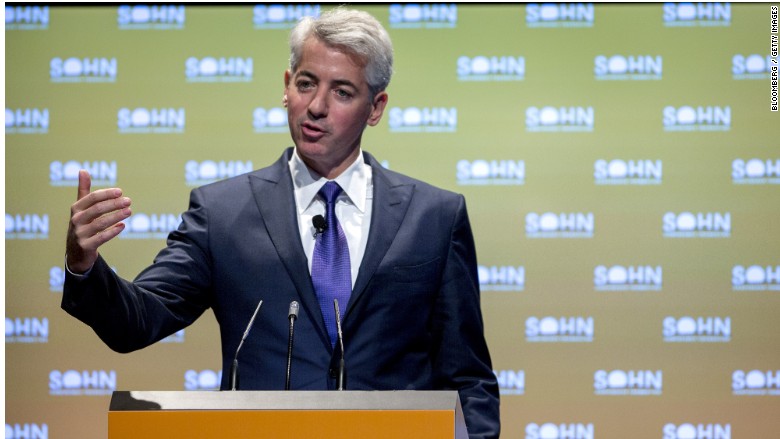 Some of Wall Street's biggest names, egos and suits rubbed shoulders at the Sohn Conference in New York Monday.
Speeches at Sohn send ripples in the stock market, building buzz for some companies and causing others pain. This year was no different. Here are four key takeaways from the top hedge fund and investment managers.
1. David Einhorn: Be careful with oil stocks. Hedge fund manager David Einhorn is famous for predicting Lehman Brothers' demise. Now he says oil drillers are terrible investments.
Einhorn argued that oil drillers, especially the ones that practice fracking, spend too much money and couldn't turn a profit when oil prices were high. Now that energy prices are much lower than a year ago, oil drilling companies are an even worse bet, Einhorn says.
He held up Texas-based driller Pioneer Natural Resources (PXD) as one of the worst stocks.
"Pioneer is dramatically overvalued," says Einhorn, founder of the hedge fund Greenlight Capital. "A business that burns cash and doesn't grow isn't worth anything."
Some investors agreed: Pioneer (PXD) fell nearly 2% after Einhorn's speech Monday.
Related: Hedge fund star David Einhorn calls fracking companies a joke
2. Bond King Jeff Gundlach: Buy Puerto Rican bonds. Jeff Gundlach, chief investment officer at Doubleline Capital, made headlines when he told the Sohn audience to buy Puerto Rican municipal bonds.
The commonwealth's government has signaled it could be near a default, but Gundlach says its problems are already priced into the bonds. He alluded to its status as an American territory as an encouraging sign.
Gundlach is also wary of how America measures its economic growth compared to others. His problem is that inflation is measured differently in the U.S. and Europe.
Inflation plays a big role in understanding a country's economic growth. If it's not an apples-to-apples comparison, Gundlach says, how can people know how America's economy is doing compared to Europe?
The inability to compare U.S. growth to Europe's irks him.
"I've started to be very suspicious about [Gross Domestic Product]," says Gundlach, referring to the broadest measure of economic activity.
Related: Vanguard beats Pimco as world's biggest bond fund
3. Bill Ackman: This is the 'next Berkshire Hathaway.' Billionaire hedge fund manager Bill Ackman believes Warren's Buffett's Berkshire Hathaway (BRKA) is "perpetually undervalued."
Ackman says the next Berkshire -- a company that owns an array of brands -- is one his own investments, Valeant Pharmaceuticals (VRX). Valeant, a Canadian company, has made over 100 acquisitions in seven years, Ackman said. The company's revenues have doubled in the past three years.
"Valeant has clearly been massively undervalued all the way," says Ackman, founder of Pershing Square Capital. "Valeant is a very early stage Berkshire."
Valeant (VRX) has performed well. Its stock is up 31% this year.
Related: 7 things you should know from Buffett's shareholder meeting
4. Mala Gaonkar: Bet on Microsoft. The biggest fan of Microsoft might be Mala Gaonkar, co-portfolio manager of Lone Pine Capital, a hedge fund in Greenwich, Connecticut. Gaonkar argues that the company's big turnaround could yield solid returns for investors.
Gaonkar sees a bright future ahead for Microsoft (MSFT) with its still-fresh CEO Satya Nadella, who took the company's reins a little over a year ago. She also said Microsoft's revenue growth and cost cutting make it an attractive buy.
Although the strong U.S. dollar has hurt the company's sales abroad, Microsoft has persevered so far in 2015. Its stock is up 13% this year.