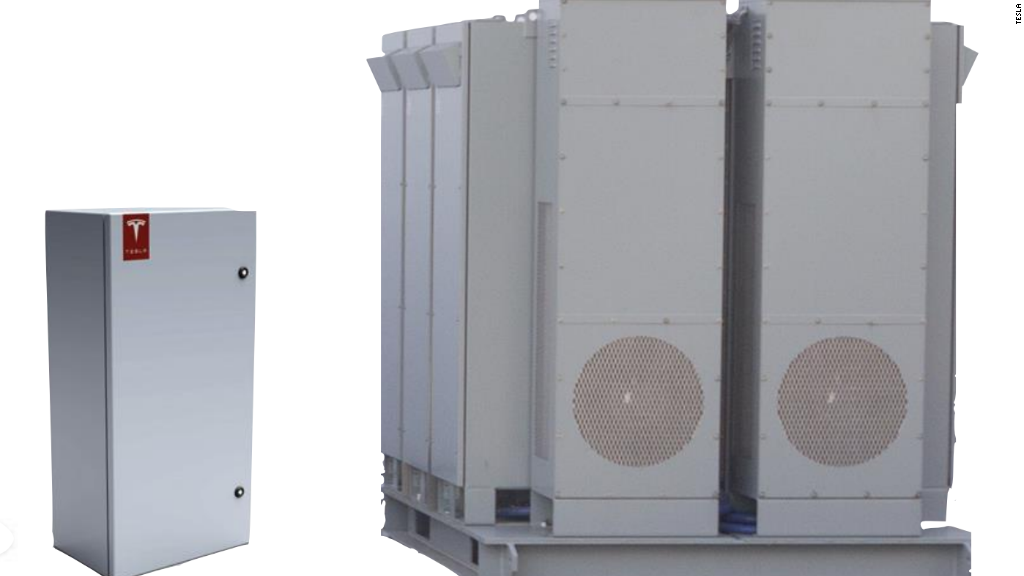 When you hear Tesla, do you think of its cool cars? Or do you think of how to power your home?
The overwhelming response to the company's new line of energy products suggests that one day, it might just be the latter.
Tesla (TSLA) recently unveiled a wall-mounted battery that will be installed in homes and businesses which could save energy users big bucks.
The response has been "off the hook," CEO Elon Musk said on a call with analysts Wednesday.
The company has received 38,000 pre-orders from distributors around the world.
The rechargeable lithium-ion battery, which Tesla is calling the "Powerwall" will be sold to installers for $3,500 for 10kWh, and $3,000 for 7kWh. Deliveries will begin in late Summer.
They will connect to the local power grid and can save consumers money by powering up overnight, when energy companies typically charge less for electricity. Then, they can be turned on during the day to power a home.
Related: Tesla battery to save consumers 25% on electric bills
The home battery production will begin at Tesla's factory in Fremont, California, but it expects to expand into its new Gigafactory when it opens early in 2016. At the Gigafactory, Tesla will make batteries for both its vehicles and its new energy products.
A lot of the earnings call on Wednesday was spent talking about the energy products. But Musk did give some updates on the products the company currently sells. (Its electric cars.)
The company is on track to meet its lofty goal of delivering 55,000 vehicles this year. That would be a 70% increase over the number of vehicles it shipped in 2014.
That includes the shipment of Model S cars, and its new Model X SUVs, which Tesla expects to roll out at the end of the summer.
"I drove the latest prototype of it today and it was, like, wow," said Musk. "This is by far the best SUV."