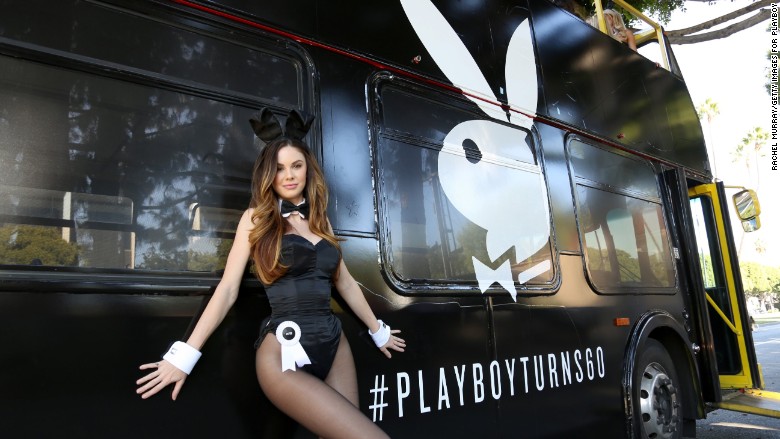 Playboy is betting big that the bunny won't lose its appeal in China.
On Wednesday, Playboy announced that it has struck a licensing deal with a Chinese company, Handong United, to manufacture and distribute Playboy-branded apparel and accessories. The deal will put Playboy merchandise in 400 new locations across China, taking the total number of outlets to 3,500.
Playboy -- known for its flagship adult magazine and iconic bunny logo -- struggled for years as competition increased from free, online porn. Founder Hugh Hefner took Playboy private in 2011, and the company has since focused on re-building the empire by licensing the Playboy brand to boost revenue.
"We're enhancing our licensing portfolio with long-term, brand-enhancing partners, and Handong United is a partner that can deliver a premium and superior product quality," said Matt Nordby, president of global licensing at Playboy.
Related: Why China is so tough for Uber to crack
Playboy has never sold its magazine in China. But like so many other consumer companies, it's investing heavily in efforts to tap into China's rising middle class.
"China is one of our most important markets," Playboy CEO Scott Flanders said in a statement. "To achieve this leadership position without ever having a media entity in China is a testament to the tremendous power of our brand."
The strategy is paying off -- last year, roughly one-third of Playboy's $1.5 billion global retail sales came from China. Over the past decade, the company has made $5 billion in retail sales in the country.
Playboy is even trying to go upscale in Asia, partnering with luxury brands such as Marc Jacobs and department store chain Lane Crawford.
Through licensing agreements, Playboy-branded consumer products are now in 180 countries.
Playboy is "one of the most famous and treasured brands in China," said Handong's Xiaojian Hong. "Playboy is considered the 'must-have' fashion choice by men and women across the mainland."