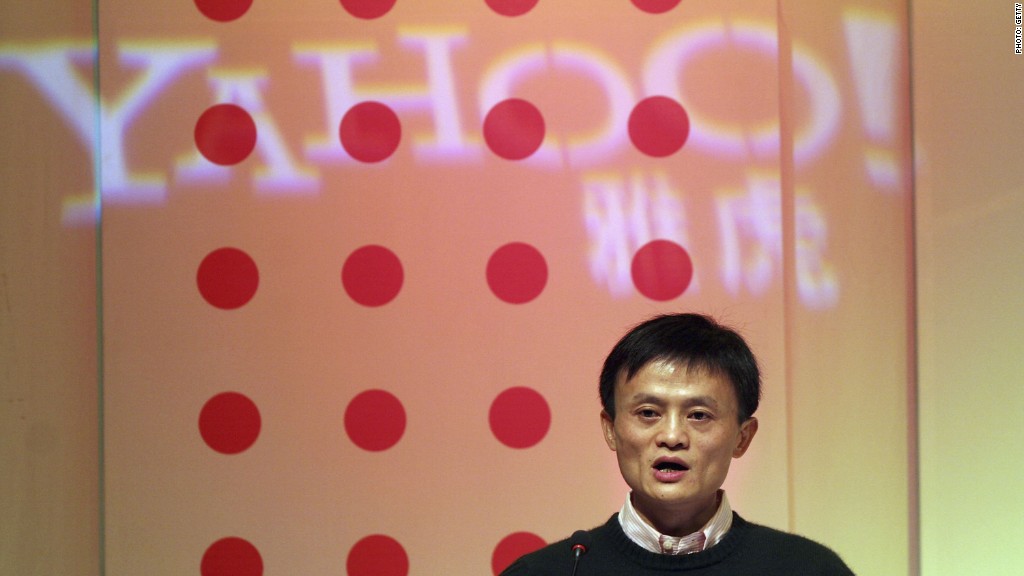 Is the worst over for Alibaba?
The Chinese e-commerce giant's stock hit an all-time low earlier this week. But Alibaba (BABA) shares surged nearly 8% Thursday after the company reported sales and earnings that beat analysts' forecasts.
Alibaba also announced it was promoting chief operating officer Daniel Zhang to be its new CEO. Zhang will replace Jonathan Lu, who is staying on at Alibaba as vice chairman.
"I'm excited to take on this new challenge. It is an immense responsibility, and I'm grateful to every member of the Alibaba team for their commitment and dedication to excellence," Zhang said in a statement.
Wall Street's positive reaction to the earnings and new CEO is great news for Alibaba and its enigmatic founder/chairman Jack Ma.
Related: China's taxman is coming for Alibaba
Alibaba had plunged in the past few months due to concerns about slowing growth and accusations that the company was not taking the problem of counterfeit goods on its sites seriously.
But the company defied the skeptics by reporting a 45% jump in sales. Mobile revenues skyrocketed more than 350% from a year ago and now account for 40% of Alibaba's total sales.
Ma seems hopeful that even better days lie ahead.
He was effusive in his praise for Zhang, who has been with Alibaba since 2007 and has held various management positions at its Taobao and Tmall units.
Related: Alibaba has invested $200 million in Snapchat
Ma also said Zhang was instrumental in helping to make November 11, known in China as Singles Day, a major online shopping holiday for Alibaba.
"Daniel is a proven international business leader and innovator with a strong track record of delivering results. He has the confidence of our entire management team, and there is no better person to lead Alibaba Group as we embark on the next stage of our growth," Ma said.
The rebound for Alibaba is something that Yahoo (YHOO) CEO Marissa Mayer can applaud, too. Yahoo is planning to sell its remaining 384 million shares in Alibaba later this year.
Related: Marissa Mayer's worst nightmare is becoming reality
Yahoo's shares have fallen sharply this year along with Alibaba because investors were worried about how rapidly the value of the Alibaba stake was shrinking.
But Yahoo's stock was up 5% Thursday.
Still, it's going to take more than one strong day to erase the year-to-date losses for Alibaba and Yahoo. Each stock remains down more than 10% so far in 2015.