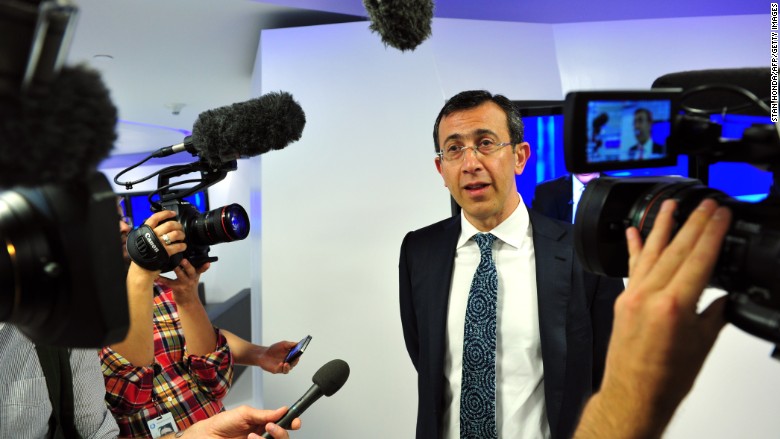 The ousted CEO of Al Jazeera America Ehab Al Shihabi will not have a "functional role" at the news company, a high level source said Thursday, a day after Al Shihabi's defiant claim that he would continue as an executive at the company.
The contradiction added to the chaos at the embattled news channel that has left its staff confused and angry.
Al Shihabi has been an unpopular figure at AJAM since it was launched in 2013. His dismissal as CEO Wednesday was celebrated in the newsroom.
"People were cheering. They were high-fiving and joking that they were going to do cartwheels," one source said. "People were ecstatic. Work stopped."
But the mood shifted within an hour. In a terse email sent from his own account, Al Shihabi informed staff that he would be staying at AJAM as chief operating officer.
When Al Shihabi's email landed, the source said the newsroom became a "funeral parlor."
But a high level AJAM source told CNN that Al Shihabi will not have authority.
"Ehab will not be in a functional role," the source said.
Other sources told CNN that Al Shihabi would be leaving Al Jazeera America soon. CNN interviewed several editorial employees familiar with the situation at AJAM who spoke on the condition of anonymity.
Al Shihabi declined to comment when asked about his future at the channel.
"I cannot comment on that," he said.
Al Shihabi's email on Wednesday was widely interpreted as a face-saving gesture. A memo circulated among staff on Thursday morning welcomed aboard new CEO Al Anstey. It did not mention Al Shihabi's role and carried a tenor of finality.
"Al Jazeera thanks Ehab Al Shihabi for his efforts," the memo said.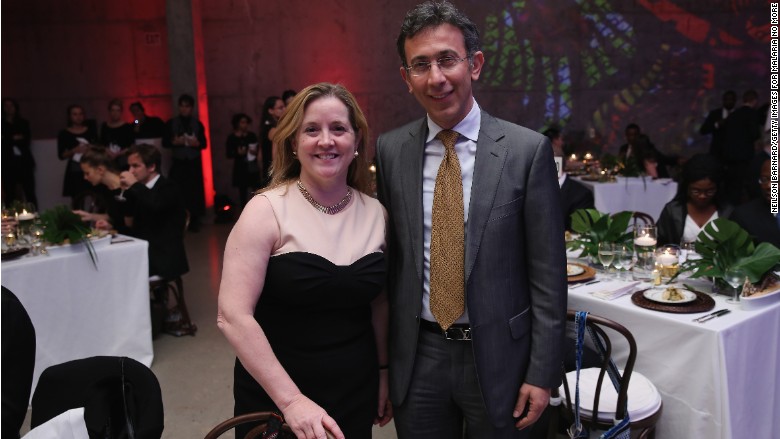 A spokesperson for AJAM did not respond to a request for comment about Al Shihabi's status at the channel.
The news of Al Shihabi's demotion came as a surprise to the AJAM staff. Al Shihabi was present at an 11 a.m. meeting on Wednesday that was described by an attendee as "business as usual."
"If he knew what was coming later in the day he certainly didn't let on," the source said.
Related: Al Jazeera America CEO replaced
The shake-up on Wednesday came after AJAM was roiled with a $15 million lawsuit that accused the network of tolerating sexism and anti-Semitism, and the departure of three top women executives, including one who accused Al Shihabi of presiding over a "culture of fear."
The staff's frustration, however, has now turned on AJAM's President Kate O'Brian.
"There is incredible anger with Kate O'Brian," said one ranking employee who has been with AJAM since its beginning.
Related: Al Jazeera America loses another exec
O'Brian, multiple sources said, enabled Al Shihabi and often failed to stand up for her staffers.
When asked about those accusations, O'Brian defended her job performance.
"I'm not going to respond to that," she said. "I am my own person, and I've always had the good of the staff and the importance of creating great content as my top priority. I want one thing and that's the success of the channel."
O'Brian spoke in general terms when asked about the leadership changes.
"Anything that creates an environment that leads to the success of the channel is a good move," she said.
Related: Al Jazeera America exec tells staff he will fight lawsuit
O'Brian frustrated staffers Wednesday when she appeared in one of AJAM's Manhattan newsrooms and declined to speak candidly about Al Shihabi's future role at the channel. According to an employee who was there, O'Brian repeatedly told staff members that she could not talk about the situation.
One employee familiar with the innner workings of AJAM was sympathetic to O'Brian, but said she has a "credibility problem."
"She's the president, she reports to [Al Shihabi]. In fairness you really have to ask: What else could she do?" the source said.