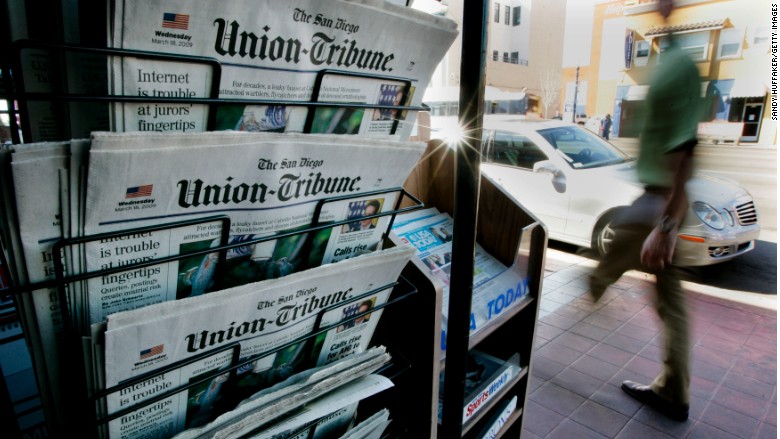 Tribune Publishing has agreed to purchase San Diego's largest newspaper for $85 million, giving the company a stranglehold over the publishing business in California's two largest cities.
Tribune (TPUB) already owns the Los Angeles Times, in addition to the Chicago Tribune and a collection of other daily newspapers.
The cash and stock deal for the San Diego Union-Tribune, which has in recent years gone by the name San Diego U-T, is expected to close in the second quarter of 2015. Tribune said it will create a "California News Group" to house its newspapers in the state, which are concentrated in Southern California.
Analysts have long expected consolidation in California's newspaper business, as legacy print outlets continue to suffer from declining advertising revenue and steep drops in circulation.
Austin Beutner, who will serve as publisher and CEO of both publications, said the Union-Tribune will benefit from a relationship with the larger Los Angeles paper.
"San Diego Union-Tribune will retain editorial independence, providing an authentic voice that reflects the diversity of the state and the distinct values of our communities," Beutner said. "I also know the Los Angeles Times will benefit with a closer connection to its older sibling down south."
The Orange County Register is the lone remaining major newspaper in Southern California that is not under Tribune control. In March, its controversial leadership team resigned their posts, and a new publisher was installed.