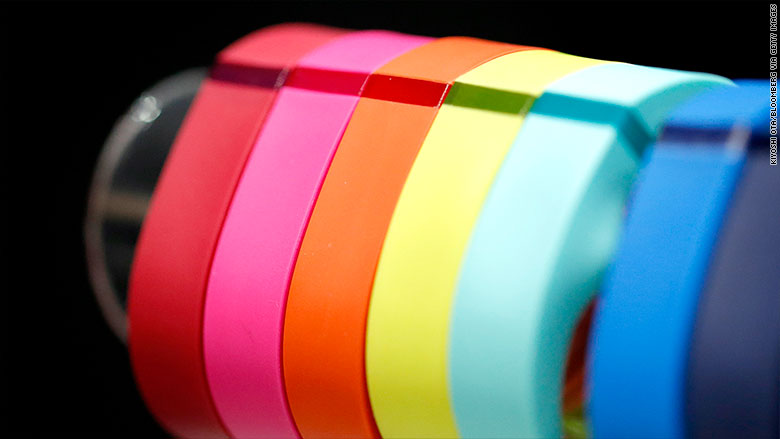 FitBit -- the company that makes those wearable fitness trackers -- filed an IPO on Thursday afternoon.
Documents it sent to the Securities and Exchange Commission on Thursday reveal FitBit's explosive growth.
Its sales and user base has more than doubled each year for three years straight. FitBit sold 11 million devices last year, raking in $745 million in revenue. The company said $132 million of that was profit.
The company says it has sold 21 million devices since 2008. These wristbands track physical activity and pair up with computer apps to provide feedback on your health.
The company says it wants to tap into the $200 billion market for health and fitness products, which includes gym memberships, dietary supplements and fitness programs.
FitBit wants to claim a special stake in the "get fit" programs that some employers offer their workers, usually through life or health insurance. The company said it expects that sector in the United States will grow from $7.4 billion to $10.4 billion in the next three years.
Last month, it announced a partnership with life insurer John Hancock which would reduce FitBit wearers' rates.
FitBit also said its seven devices are currently on sale at 45,000 retail stores in 50-plus countries.
The company is capitalizing on the recent obsession with "wearables," devices that cling to your body. Apple (AAPL), Google (GOOGL), Motorola and others are trying to create the perfect smartwatch. Meanwhile, there's a race between Microsoft (MSFT), Oculus VR and Samsung (SSNLF) to create the best virtual reality headsets.
The big question for FitBit (and every other fitness tracker maker) is whether it can make sense of all the data it's collecting -- and give smart advice you can actually act on.
A common complaint from consumers is that they buy a fitness tracker that eventually ends up tossed into a drawer, never to be used again.
As a public company, FitBit will be traded on the New York Stock Exchange under the "FIT" ticker. How fitting.