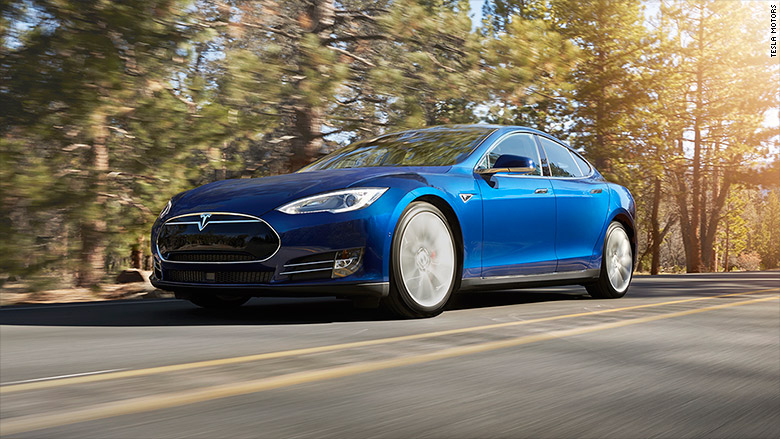 One of America's big oil men is a fan of Elon Musk and his electric car business.
Even though T. Boone Pickens made his fortune in the oil business, he thinks Musk is onto something big with Tesla Motors and its electric cars.
"I believe he's going to get to the winner's circle. The car works," Pickens said on Thursday at SkyBridge Capital's SALT Conference in Las Vegas.
However, the Texas billionaire thinks Musk's next trick needs to be to fix Tesla's sticker shock.
"He's got to figure out some way to get it cheaper. I can't afford it," Pickens joked to the crowd of hedge fund managers and others in finance.
Even Tesla's new entry level car, the Model S 70D, starts at a hefty $75,000, though a federal tax credit lowers that price to $67,500. The company has announced plans for a cheaper model in the $35,000 or so range, but that won't be coming until 2017.
Related: Hedge fund star trashes Warren Buffett
Losing money on green energy: Pickens is known as an oil man, he's also made bets on renewable energy. Unlike Musk, some of them have failed spectacularly.
In 2007, Pickens unveiled his plan to wean America off of foreign oil by rolling out a massive wind farm project. It ultimately failed due in part to the plunge in natural gas prices that made wind and other renewables expensive by comparison.
"I lost $150 million in the wind business. That changed my mind," Pickens said.
While he doesn't know Musk personally, Pickens sounds intrigued by his ambitions.
"I scratch my head on Elon...He's doing something. There's no question about that," Pickens said.
Related: Tesla unveils battery for your home
Giving up on DC...for now: That's a lot more encouraging than what the billionaire had to say about America's political system. Pickens expressed deep frustration with President Obama blocking the planned Keystone XL pipeline.
"I'm about to give up on Washington figuring anything out. This is so simple and routine. There is nothing to it," Pickens said.
Pickens also had harsh words for Obama and Hillary Clinton. Asked for one word to describe the current president and the woman trying to succeed him, Pickens said "loser" for each.
It should be little surprise that Pickens is putting his money behind Jeb Bush, a pro-business Republican who he described as a "winner" that would get the Keystone pipeline built. Pickens said he has donated $100,000 towards efforts to elect Bush.