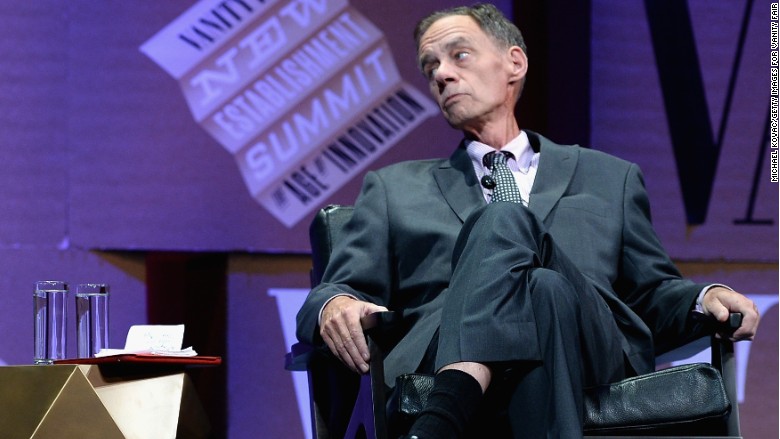 The daughter of the late New York Times media columnist David Carr says she never knew the man whose history of drug abuse was detailed in his memoir. She only knew "David the loving dad."
In a piece published this week by Glamour, Erin Lee Carr paid tribute to her father and described the night in February when he died suddenly at the age of 58. That night, David Carr, who penned the Times' "Media Equation" column, had moderated a panel featuring Glenn Greenwald and Edward Snowden.
Erin, a documentary filmmaker and one of the late columnist's three daughters, was at the event. She recalled Greenwald telling her that her dad was her "biggest fan."
"I quickly replied, 'I'm his,'" she wrote. (Greenwald recounted that interaction on Twitter the day after Carr's death.)
Erin wrote in Glamour that her father had a "hunger for knowledge, trivial or monumental, and he expected me and my sisters to share that curiosity."
"When I was a teenager, he assigned books for us to read," she wrote. "He issued quizzes to ensure that our vocabulary was as extensive as he thought it should be."
By the time she got to the hospital after hearing that her father had collapsed, she said he had already passed. Soon, the Internet had also learned the news.
"My stepmom and I went to his bedside, but before I could say goodbye, my phone started buzzing. Word had broken that my dad had passed away; someone had tweeted about his death," she wrote. "I was filled with rage. Couldn't I have at least 30 seconds to comprehend what had happened without having to hear the Internet's take? Couldn't the loss of the most important man in my life be my own, if only for one quiet moment?"
Related: New York Times columnist David Carr dead at 58
David Carr was revered among journalists, and his death was met with an outpouring of grief from fellow reporters who knew him. His prose was distinct, often packed with humor and sober analysis. Before he joined the Times, he earned his bones as an editor at a pair of alt weeklies, The Twin Cities Reader and the Washington City Paper.
His 2008 memoir, "The Night of the Gun," detailed his past struggles with drug addiction. He died after collapsing in the Times newsroom on February 12, the result of complications related to lung cancer and heart disease.
Ultimately, Erin said that she came to appreciate the online reaction to her father's passing.
"But I've realized, strangely, that instead of resenting the Internet, I'm grateful for it; I can tap Dad's name into Twitter and be flooded with the lessons he shared with others, including some he never had a chance to share with me. I don't know what it's like to lose a parent who didn't lead a public life," she wrote. "I'm just glad my dad was out there in the world, leaving an impression on everyone he met."