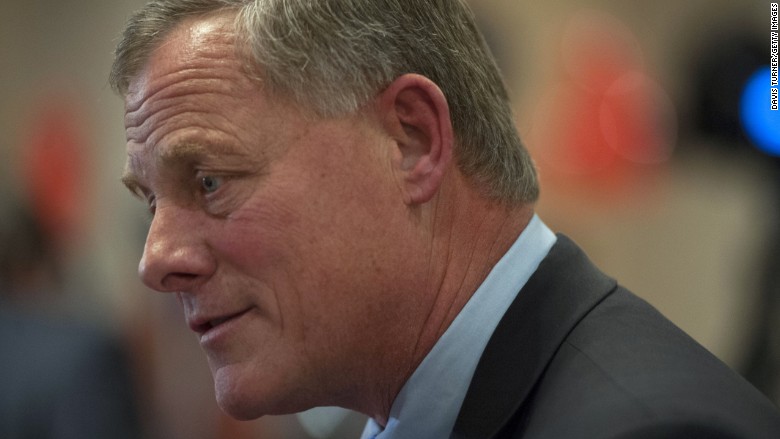 On Thursday, the head of the Senate Intelligence Committee freaked out privacy experts when he "conflated" two government spying programs.
Under the Patriot Act, the NSA collects Americans' phone call records. It previously tracked your physical location as you surfed the Web. That ended in 2011.
But Senator Richard Burr said that computer location tracking -- enabled through IP addresses -- was still going on. Alarms went off.
Here's what Burr said on the Senate floor: "Now what's bulk data? Bulk data is storing telephone numbers and IP addresses — we have no idea who they belong to — that are domestic." He mentioned IP addresses a second time later on.
In fact, Burr's office said he mixed up.
"The Senator conflated two programs," his press secretary said.
Burr made his impromptu speech in support of extending the life of the Patriot Act. Congress is considering another bill, the USA Freedom Act, which would slightly dial back government surveillance.
Why do Burr's comments matter? This year, Burr became Senate Intelligence Committee chair, so it's his job to oversee these programs.
"Anyone can make a mistake," said Steven Aftergood, who heads the Federation of American Scientists' Project on Government Secrecy. "But when the chair of the Intelligence Committee gets these programs mixed up, it's a sign that confusion about them prevails."
And it's even more important that Burr know exactly what the NSA is doing, now that a federal appeals court says NSA mass collection of phone records is illegal. The judges said government spies collect too much information on Americans.
Burr's office insists this was an error -- and not the senator accidentally revealing that mass spying of computer locations is still going on under the Patriot Act.
But there are questions about the extent of government surveillance too. Exposed NSA documents reveal that government spies are collecting emails, phone records and tapping into phone and video chats -- more than the government has ever admitted to.
One more thing
The episode reveals something else: The Congressional Record isn't really an accurate record.
The official federal records of the speech deleted both mentions of "IP addresses." And it added in the phrase "foreign" to reflect that collections are both home and abroad.
These changes weren't noted. The agency that maintains these official logs, the Government Publishing Office, did not return calls to CNNMoney on Friday.
The disparity between Burr's speech -- and Congress's records -- was first caught by Aftergood and reported by intelligence blogger Marcy Wheeler.