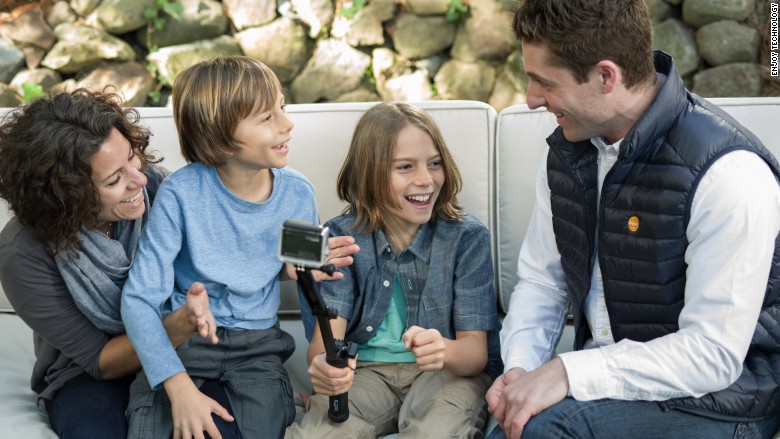 The thrill of unboxing a brand new gadget can fade when it's time to actually set it up.
Enjoy Technology wants to help. The startup is a combination of Amazon's (AMZN) same-day delivery and Apple's (AAPL) Genius Bar. And it's the brainchild of Ron Johnson, the former head of Apple's retail division who later spent a tumultuous year and a half at JC Penney (JCP).
There are currently more than 50 products available on the Enjoy app -- smartphones and laptops, a GoPro and a drone, even a bike or motorized skateboard.
But here's the difference: An Enjoy expert will deliver it to you wherever you are (assuming it's in the Bay Area), at the exact time you want. That expert will stick around for an hour, free of charge, to help you set it up or learn how to use your new gadget. If you need another visit, you can request an expert for $99 an hour.
The items cost the same as they would in a retail store. Enjoy purchases goods wholesale and has close partnerships with the brands it sells. (Later this month, AT&T (T) will offer Enjoy delivery and support to New York and San Francisco customers who buy a new smartphone online.)
The idea seems custom-made for older, less tech-savvy consumers who might rely on, say, their tech reporter daughters for constant over-the-phone support. But Enjoy thinks it's useful to anyone who's busy or wants to get more out of their devices (for instance, connecting all the devices together or backing up photo libraries).
"The one thing almost all of us have in common is we all have this incredible smartphone in our pocket but we're only utilizing about 10% of it," said Enjoy co-founder Tom Suiter, another Apple veteran.
Related: Thousands are bypassing the post office with this app
The most innovative thing about Enjoy might be its hiring practices. It has the flexible scheduling of an on-demand startup, but its employees are actually salaried.
"We've decided that we want to do something different," said Kristina Eastman, Enjoy's head of operations and experience. "Our employees are salary. They get bonuses, they get stock, they get benefits, but they also get the freedom to choose when and where they work."
Most on-demand startups use freelance workers, a practice that has been controversial. A mobile app can instantly summon a person to do your laundry, bring you dinner, drive you around or ship your packages -- but that convenience comes at a price. Those employees are typically contractors who aren't eligible for any of the benefits of a salaried position.
Investing in its staff makes sense. More so than other on-demand startups, Enjoy's workers are the product.
Related: Is this 'America's best part-time job'?
Enjoy will expand to New York City next week. The company already has around 40 experts on each coast. Clad in puffy navy blue vests -- the Enjoy uniform -- each expert goes through a four-week training program and has a detailed profile on the app that includes a bio and videos.
The company has been working in secret for the past 18 months. It raised $30 million in funding last October from Andreessen Horowitz, Oak Investment Partners and Kleiner Perkins Caufield & Byers.
(Full disclosure: My partner worked as a contract photographer for Enjoy before the company launched.)