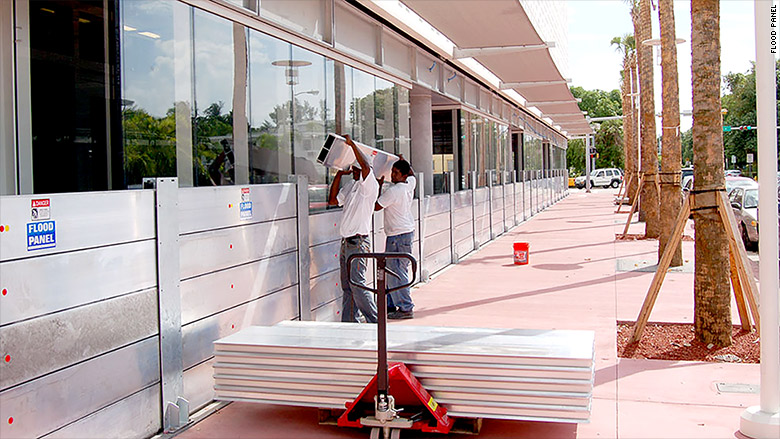 Goldman Sachs was onto something.
Right before Hurricane Sandy hit New York City, the venerable investment bank had a novel idea: it barricaded the doors of its downtown Manhattan headquarters with sandbags. After the storm -- when much of Lower Manhattan was flooded and powerless but Goldman was dry and lit up like a Christmas tree -- many New Yorkers had a simple question: Why didn't more places do this?
Soon other businesses will be able to follow Goldman's (GS) lead, and they'll have something even better than sandbags.
Last week, Florida-based Architecture Metals was one of 11 companies to win $30 million in federal grants. The money funds a New York City program designed to help small businesses prepare for the next storm. The company's new product, called SPS Flood Panel, is like a high-tech sand bag.
The Flood Panel is basically a waterproof metal gate that goes around a building -- or over specific parts like a door -- to keep out flood waters. The gate is made of modular panels, each a foot high, an inch thick and custom cut for length. The panels slide into metal mounts on or near the building. Rubber is used to create a seal between the panels. Although most gates are between one and six feet high, the panels can be stacked to create a barrier up to 19 feet.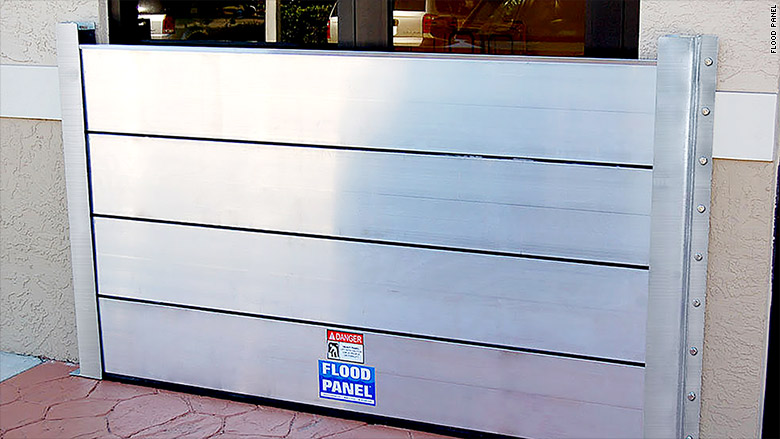 The high-tech part is how it's made: It's a patented process that injects the hollow aircraft-grade aluminum panels with a liquid plastic, which then hardens in the shell.
The resulting panel is strong. Similar technology is used to make bulletproof material and can withstand an impact from an object that's 1,000 pounds and 12 inches around -- think a telephone pole that's dislodged during a flood.
The panels are lightweight. The modular nature means they can be deployed in minutes by just a few people. And they're small, which makes them easier for New York's space-starved businesses to store.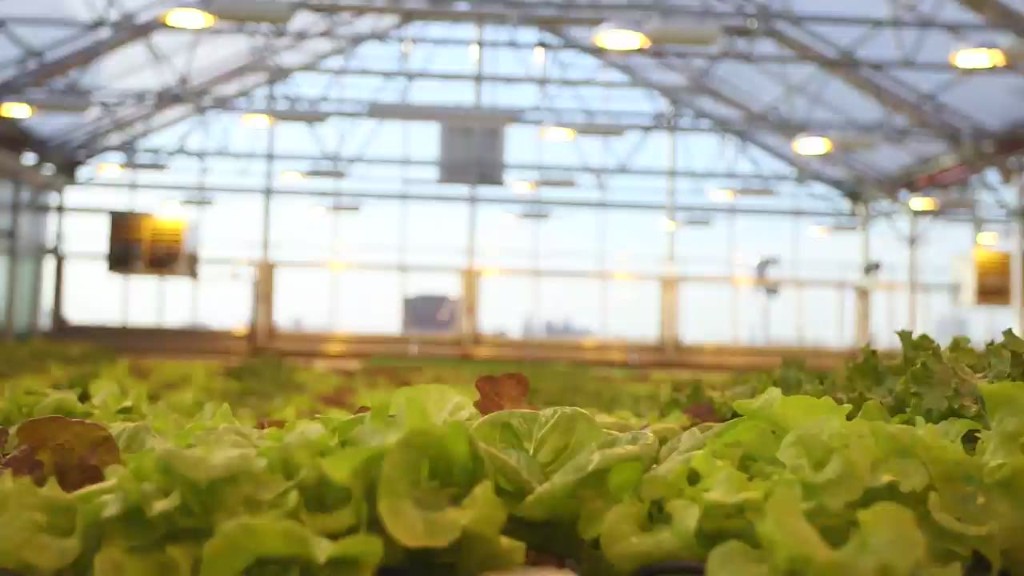 Architecture Metals has been in the flood protection business for decades. CEO Tom Osborne designed the new panels in response to New York's request for innovative technologies to protect against another flood. While New York will be the first place these panels are deployed, Osborne sees a huge market for this technology in the face of rising sea levels and revised building codes around the country.
In New York, he's partnering with some local construction and engineering firms to deploy the panels around the city. He isn't sure how many businesses he'll be able to protect -- the city, which is distributing the federal grant money, is still finalizing how the money will be allocated. The cost of the system varies greatly depending on the building's size and needs, and can be anywhere from a few thousand dollars to over six figures.
In addition to New York's bureaucracy, Osborne said it's challenging to work with buildings that are connected to each other, especially if one landlord wants to flood proof but the other doesn't. One way around that is to put the flood gates up around an entire block -- an option Osborne said he's considering.
Take that, Goldman Sachs.