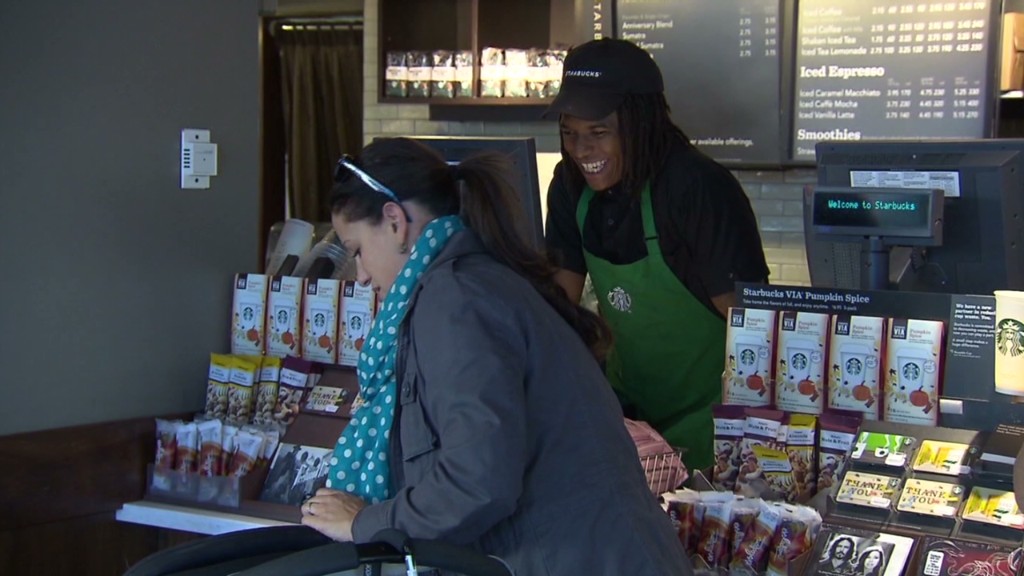 One month after extending its free tuition program, Starbucks may nearly double the number of its workers using it to get a degree.
There are currently 2,200 Starbucks workers enrolled in Arizona State University. Now, another 1,800 employees have applied to ASU.
Starbucks began offering tuition reimbursement to ASU's online program last year, but it started as a two-year program. The company announced last month that workers could now be reimbursed for four years of tuition.
The 1,800 employees that applied in the past month could find out if they are accepted within weeks, said Starbucks spokeswoman Laurel Harper. They could start taking classes as early as this summer.
Related: Starbucks to give workers a full ride for college
And more workers are expected to apply. There's no deadline for those baristas who want to take advantage of the Starbucks program and they can apply the first day on the job.
Of the 7,000 people the coffee chain hired last month, about half said their number one reason for applying for a job was the tuition program, Harper said.
All Starbucks (SBUX) workers are eligible for the education benefit as long as they work more than 20 hours a week and don't already have a college degree. Starbucks says 70% of its workers don't have a bachelor's. It employs about 141,000 people in the U.S.
Related: I got into my dream school, but can't afford to go
They can take classes in any subject they want and there's no obligation to remain at Starbucks after they graduate.
ASU is the only school Starbucks' employees can attend under the program. The school covers 42% of the cost for each credit of course work. Starbucks will pay the remaining 58%, minus any other scholarships the employee receives. Tuition for ASU's online program is about $15,000 per year.
CNNMoney's Ben Rooney contributed reporting for this story.