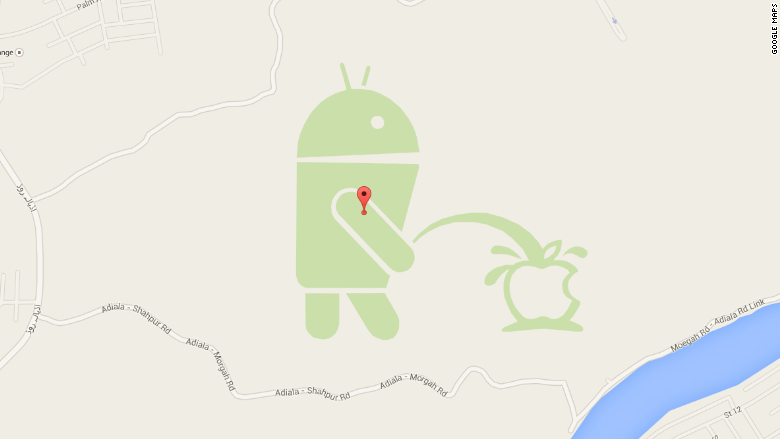 Tsk, tsk. It was too much of a good thing.
Starting on Tuesday, Google is suspending its public Map Maker tool -- preventing its community of users from independently adding landmarks and helpful tips to Google Maps.
The reason? There are too many pranksters out there.
Until recently, a loyal community amateur cartographers routinely edited Google Maps with little oversight. But after someone created a fake park in Pakistan -- in the shape of an Android robot peeing on an Apple logo -- Google imposed a strict review process.
The company started to manually review every submission. But Google (GOOGL) now says it can't handle the deluge of work coming in. Pavithra Kanakarajan, a member of the company's Google Maps team, explained the situation in a blog post Friday.
"Every edit you make is essentially going to a backlog that is growing very fast," she said. "It is not fair to any of our users to let them continue to spend time editing."
Kanakarajan said "the most recent incident" -- likely the peeing Android robot -- came from "a strong user in our community." That explains why no one noticed the image sooner.
In the old system, Google mappers edited fellow mappers. Prolific contributors gained enough trust that their submissions were no longer subject to public review before going live.
And these map edits were most likely in rural areas. After all, Google created Map Maker in 2011 to improve the accuracy of its popular tool. Locals know if a highway is a one-way road, or if there's a small lake. That's especially true in rural regions that don't get analyzed often by satellites in space.
That peeing Android robot was created as a fake park in the outskirts of Rawalpindi, a Pakistani city less than 10 miles southwest of Islamabad.
And it looks like this wasn't the only incident. In her note, Kanakarajan said "we have been experiencing escalated attacks to spam Google Maps over the past few months."
A Google spokesperson said some users have been creating "all kinds of map pranks," such as fake highway exits.
But Google isn't saying who this mysterious map editor was -- or when the map editing tool might come back.