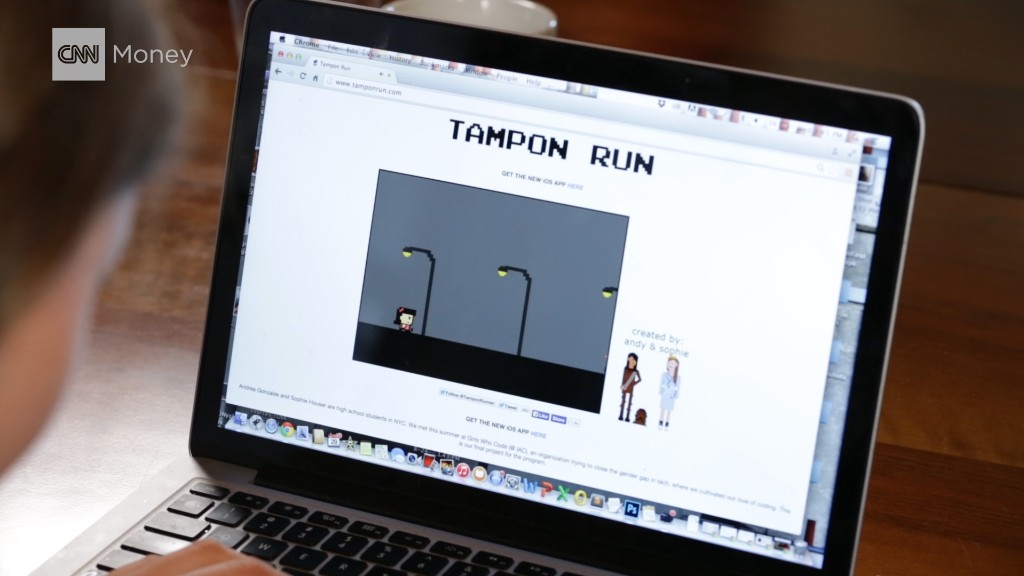 Try bringing up menstruation in your next conversation and notice the uncomfortable responses. Periods are still a taboo topic reserved for women's bathrooms and hushed conversations.
Enter Andy Gonzales and Sophie Houser, two New York City high school students who coded the feminist game Tampon Run.
With its nostalgic eight-bit interface, users longing for the original Mario Brothers get an idea of what could have been if women had helped create the popular retro video game. Certainly Peach wouldn't be a prize for conquering the game's levels. But that was then and this is now.
And now we have Tampon Run.
Andy and Sophie met last summer at an immersive seven-week program with Girls Who Code, an organization trying to bridge the gender gap in tech. To graduate, the girls needed to create a final project. Gonzales wanted to make a game that "addressed the hyper-sexualization of females in video games" and Houser wanted to "code for social good." They immediately clicked.
Related: Your period could change the world
After shooting a few ideas back and forth, Houser joked about making a game where a girl throws tampons at people. They laughed, but soon realized how bothered they were by the fact that there was such a taboo around menstruation.
Both had never been outspoken or candid when it came to periods, but as they researched, they learned that access to menstrual products and education is a global issue.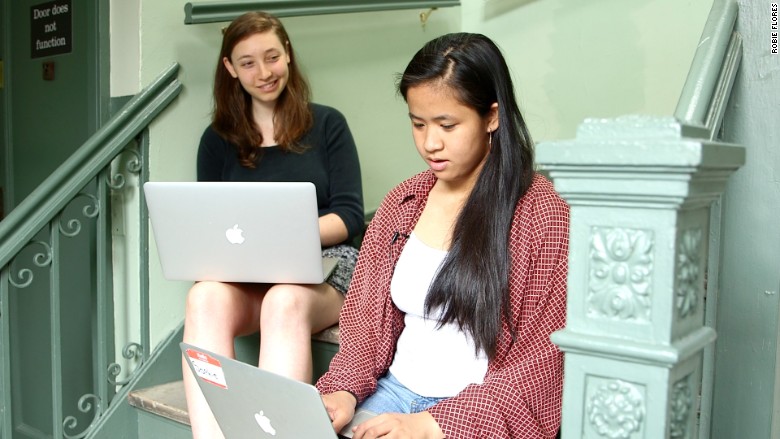 Only 12% of India's 335 million women use sanitary napkins, according to the United Nations, which has also called the "stigma around menstruation and menstrual hygiene a violation of several human rights, most importantly of the right to human dignity."
Trek over to Africa, and many girls don't have access to sanitary pads or tampons. They're forced to devise makeshift solutions out of basically anything that could stop the flow. This can ultimately lead to terrible infections or to girls missing so much school that they eventually drop out.
"This is a very important issue that a lot of people don't think about, and that's why we felt compelled to make the game," Houser said.
Related: How these startups are reimagining the world
They worked tirelessly for two weeks and graduated with a cool new game to share online with friends and family -- or so they thought. "We thought maybe like one random person would find it," Houser laughs.
The girls published the game last September. Overnight, four publications in the UK had picked it up.
"At first we hadn't put our names on the site. It was just like, 'created by Sophie and Andy' because, again, we didn't think anyone would see it," Gonzales says.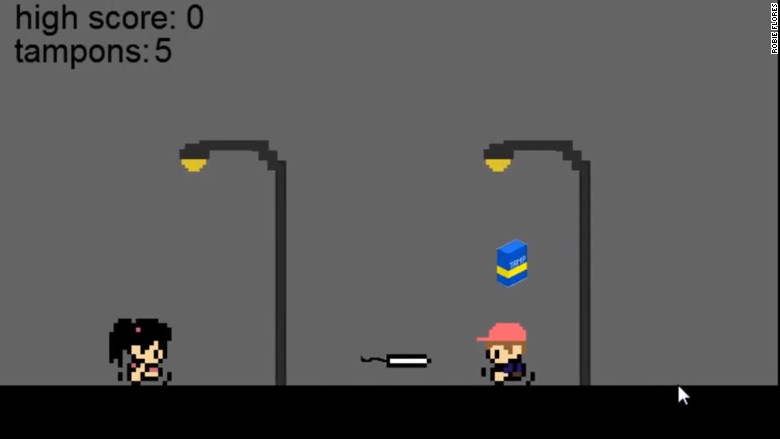 But the game spread like wildfire, and the two were soon written up by publications like Time, Teen Vogue and Fast Company. In November, they were invited to speak at a local TEDx talk for Youth Day.
And last winter, the two received an offer from Pivotal Labs to develop a mobile app version of their game pro bono, which was released earlier this year. Combined, the web version and the app have had about 300,000 visits.
"Before last summer, I didn't know what coding was," Houser tells me. As she's finishing her last months as a senior in high school, she looks forward to her freshman year at Brown where she plans to "definitely study computer science." She wants to explore how to continue using code for "social good."
And while Houser plans for college, Gonzales has landed a summer internship with DoSomething.org to help develop more games with a social message.
The two hope that their projects will show other girls that working at the coding level is not just for boys.